Top 10 Outrageous Antics of Andy Kaufman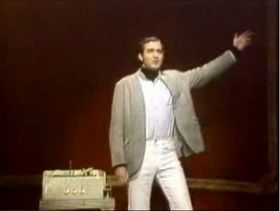 "Here I come to save the day!"—Kaufman appears on the debut episode of "Saturday Night Live" on October 11, 1975, lip-synching to one refrain from the theme from Mighty Mouse.
Kaufman's alter ego, Tony Clifton, shows up for a "Taxi" rehearsal with two prostitutes and starts insulting the entire cast. He is physically ejected from the Paramount lot by security guards. "Everyone thinks he's me. It's really destroying his career."—Kaufman on Clifton
In 1971, Kaufman starts his standup career at the Improv Comedy Club. During one of his acts, he curls up in a sleeping bag on stage and goes to sleep in front of the bewildered audience.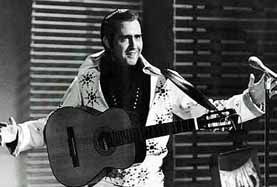 During an appearance on Johnny Carson, Kaufman does his usual Elvis impersonation and then takes off his costume to reveal an "I Love Grandma" sweatshirt.
Andy meets legendary professional wrestler and manager Classy Freddie Blassie ("ya pencil-neck geek") for breakfast at a Sambo's restaurant. The result of this historic meeting, My Breakfast with Blassie, an irreverent spoof of the highbrow My Dinner with Andre, is released on video in 1984. "As I rode home the streets of the city were alive with memories. Like the first time I saw a bum puking his guts out on the sidewalk."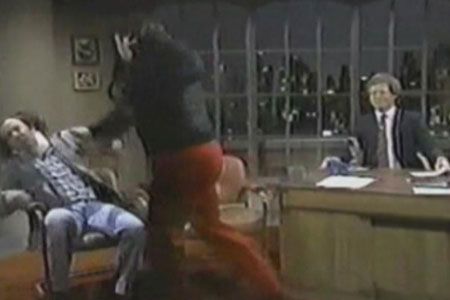 Jerry "The King" Lawler slaps Andy on the "David Letterman Show." Andy retaliates by cussing Lawler out and throwing hot coffee on him as Dave sits there in a daze, mortified and nearly speechless.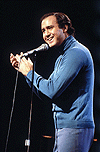 In 1979, Kaufman plays Carnegie Hall and invites the entire audience of 2,800 for milk and cookies after the show.

"No! No! I won! I answered all of the questions right!"—Andy appears as Bachelor No. 3 (calling himself "Baji Kimran") and strikes out with a babe on "The Dating Game."
"Hey baby, are you losing touch?"—Even though he is bringing in $10,000 an episode playing Latka on "Taxi," Andy starts working as a part-time busboy at Posh Bagel on Santa Monica Boulevard. Kaufman later works as a busboy at Jerry's Famous Deli in Studio City.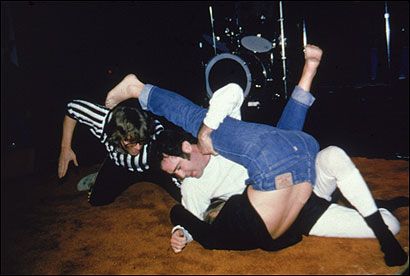 During his brief and increasingly bizarre foray into professional wrestling, Kaufman declares himself World Intergender Wrestling Champion.
---
---
© 2017 Chinaski, Foley &amp Associates