Top 10 Legends of Stand-Up Comedy
"I was in a casino, I was standing by the door and a security guard came over and said 'You're gonna have to move. You're blocking the fire exit.' As though if there was a fire, I wasn't gonna run. If you're flammable and have legs, you are never blocking a fire exit. Unless you are a table." A Minnesota native, Mitch Hedberg first gained national exposure in 1996 after performing at the prestigious Just for Laughs Montreal International Comedy Festival, which aired on Comedy Central. That same year, Hedberg appeared on Late Night with David Letterman for the first time. Hedberg rapidly gained a cult following with his surreal humor and offbeat comic delivery. Hedberg died of a drug overdose in 2005.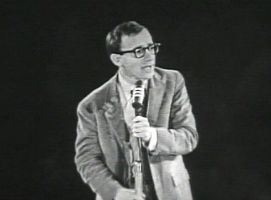 "I feel sex is a beautiful thing between two people. Between five, it's fantastic." Academy Award-winning director Woody Allen (Bananas) started out as a comedy writer, earning just $75 a week. In 1961, Allen embarked on his stand-up comedy career by making his debut at a club called the Duplex in Greenwich Village. His brilliant early stand-up comedy routines can be heard on the albums Standup Comic and Nightclub Years 1964-1968.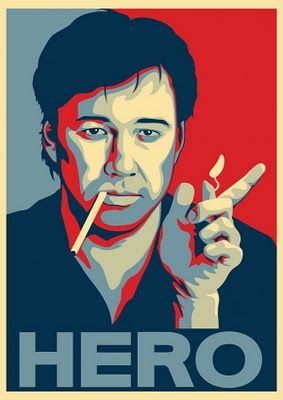 "I was in Nashville, Tennesee last year. After the show I went to a Waffle House. I'm not proud of it, I was hungry. And I'm alone, I'm eating and I'm reading a book, right? Waitress walks over to me: 'Hey, whatcha readin' for?' Isn't that the weirdest fuckin' question you've ever heard? Not what am I reading, but what am I reading FOR? Well, godammit, ya stumped me! Why do I read? Well . . . hmmm . . . I dunno . . . I guess I read for a lot of reasons and the main one is so I don't end up being a fuckin' waffle waitress." Whether discussing American Gladiators, Doritos commercials, American Gladiators, Barry Manilow albums, The Love Connection or the Waffle House, Bill Hicks brilliantly dissected the banality of American culture. "Think of me as Chomsky with dick jokes," Hicks was fond of saying. Hicks died of pancreatic cancer in 1994 at the age of 32. The late, great Richard Pryor once claimed that Hicks was "an inspired and inspiring truth teller, dangerous and brave and scary all at once."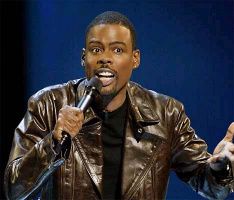 "Do you know what the good side of crack is? If you're up at the right hour, you can get a VCR for $1.50. You can furnish your whole house for $10.95." Voted as the fifth greatest standup comedian of all time by Comedy Central, Chris Rock embarked on his stand-up comedy career in 1985 at New York City's Catch a Rising Star. Rock was a Saturday Night Live cast member from 1990-93 and appeared in a memorable role as a crack addict named "Pookie" in New Jack City (1991). Rock has starred in numerous HBO comedy specials, including Big Ass Jokes (1994), Bring the Pain (1996), Bigger & Blacker (1999) and Never Scared (2004).
"Jesus is the only guy that ever came back from the dead that didn't scare the fuck out of everybody! He's the only guy that ever crawled out of the grave where people didn't go, ooohhh! I just saw some fucker crawl out of his grave! I don't believe I'm seeing this shit! Did you see that? This guy just crawled out of his box through the earth! . . . Jesus comes back, he doesn't get any pressure, no static. Nobody's upset. He climbs out, he's walking around, nobody's upset. They can eat with him and everything . . ." A former revival-style preacher, Sam Kinison embarked on a stand-up comedy career shortly after divorcing his first wife and got his first big break on Rodney Dangerfield's Ninth Annual Young Comedians Special, which first aired on HBO in 1984. Known for his intense style and trademark scream, Kinison unleashed an outrageous and uncensored form of comedy that included angry rants and attacks against conventional norms. In 1986, Kinison had a memorable role as "Professor Terguson" in Back to School, which also starred Dangerfield. Kinison, who was a frequent guest on The Howard Stern Show, also appeared as Al Bundy's guardian angel in an 1989 episode of Married with Children. Just six days after marrying his girlfriend Malika Souiri in 1992, Kinison was killed in a car accident on U.S. 95 in California. His epitaph reads: "In another time and place he would have been called prophet."
"And this is the business to be in if you want some pussy. That's why I got in show bussiness, for pussy. I figured, if Jimmy Walker can fuck, I'm fucking everybody. And it's like that too. When you do TV shows, women would be throwing pussy at me on the street like frisbee." Hilarious, raunchy and often controversial (even Richard Pryor claimed that he found his comedy at times excessively insensitive), Eddie Murphy has been ranked No. 10 on Comedy Central's list of the "100 Greatest Stand-Ups of All Time."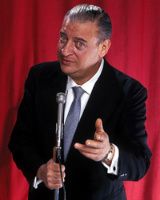 "During sex, my girlfriend always wants to talk to me. Just the other night she called me from a hotel." Rodney Dangerfield built a legendary comedy career based on the catchphrase: "I don't get no respect." Early in his stand-up career, Dangerfield worked as an aluminum-siding salesman to help make ends meet. Adopting the Rodney Dangerfield persona with a vengeance, Dangerfield landed a memorable appearance on The Ed Sullivan Show and never looked back. In 1969, Dangerfield opened his Manhattan nightclub, Dangerfields, which was later the venue for an HBO show that helped the careers of many young stand-up comedians such as Jerry Seinfeld, Sam Kinison, Roseanne Barr, Tim Allen, Andrew Dice Clay, Bob Sagat and Rita Rudner, among many others. Dangerfield's comedy album, No Respect, received a Grammy Award for "Best Comedy Album of the Year." During the 1980s, Dangerfield made several memorable appearances in films, most notably as "Al Czervik" in Caddyshack, "Monty" in Easy Money and "Thornton Melon" in Back to School.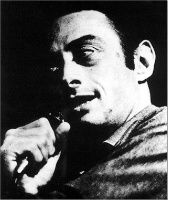 "If Jesus had been killed 20 years ago, Catholic schoolchildren would be wearing little electric chairs around their necks instead of crosses." Uncompromising and extremely influential, Lenny Bruce stretched the boundaries of free speech and was frequently arrested on stage in the early 1960s. Bruce's legal troubles mounted during this period, culminating with a six-month that found him guilty of obscenity on November 4, 1964. During the appeals process, Bruce died of a drug overdose in 1966 at the age of 40. Dustin Hoffman starred in a 1974 biographical film about Bruce, Lenny, which was nominated for six Academy Awards. In 2003, Bruce received a posthumous pardon for his obscenity conviction by New York Governor George Pataki. In 2004, Bruce was named No. 3 in Comedy Central's list of the "100 Greatest Stand-ups of All Time" behind Richard Pryor and George Carlin.
"Religion easily has the best bullshit story of all time. Think about it. Religion has convinced people that there's an invisible man . . . living in the sky. Who watches everything you do every minute of every day. And the invisible man has a list of 10 specific things he doesn't want you to do. And if you do any of these things, he will send you to a special place, of burning and fire and smoke and torture and anguish for you to live forever, and suffer, and burn, and scream, until the end of time. But he loves you. He loves you. He loves you and he needs money." A brilliant comedian and social critic, George Carlin placed No. 2 on Comedy Central's list of the "100 Greatest Stand-Up Comedians" behind Richard Pryor. Carlin's best-known routine was "Seven Words You Can Never Say on Television." For the record, the "Seven Dirty Words" are shit, piss, fuck, cunt, cocksucker, motherfucker and tits.
"I like makin' love myself . . . and I can make love for about three minutes. I do about three minutes of serious fuckin', then I need eight hours sleep . . . and a bowl of Wheaties!" One of the most influential comedians of all time, Richard Pryor had a storied career that includes an extensive body of work such as concert movies and recordings Richard Pryor: Live and Smokin' (1971). Pryor received an Emmy Award in 1973 and five Grammy Awards in 1974, 1975, 1976, 1981and 1982. In addition, Pryor appeared in many memorable films, including Silver Streak, Which Way is Up?, Blue Collar and Stir Crazy. In 1980, Pryor was severely burned after setting himself on fire while freebasing cocaine and drinking 151-proof rum. In 1998, Pryor won the first Mark Twain Prize for American Humor from the John F. Kennedy Center for the Performing Arts. In 2004, Pryor was voted No. 1 on Comedy Central's list of the "100 Greatest Stand-ups of All Time." Pryor, who suffered from multiple sclerosis, suffered a cardiac arrest and died on December 10, 2005. He was posthumously awarded a Grammy Lifetime Achievement Award in 2006.

MORE STAND-UP COMEDIANS!
---
---
© 2017 Chinaski, Foley &amp Associates