William S. Burroughs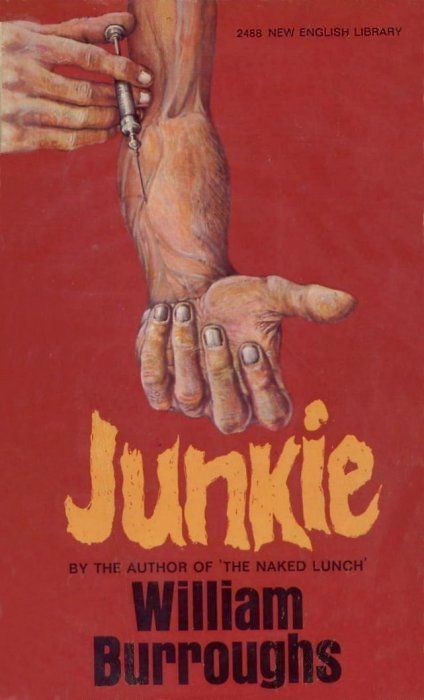 [1914-1997]
Birthplace: St. Louis, Missouri
Family: Mortimer & Laura Lee Burroughs, parents; Mortimer Burroughs Jr., brother; William S. Burroughs Sr., grandfather (inventor of the adding machine)
Nicknames: William Lee, El Hombre Invisible, Cosmonaut of Inner Space, Godfather of Punk, Elvis of American Letters
Literary Influences: Samuel Beckett (Malone Dies), Jack Black (You Can't Win), Louis-Ferdinand Celine (Journey to the End of the Night), Jean Cocteau (Opium), Samuel Coleridge, Joseph Conrad, Thomas DeQuincey (Confessions of an English Opium Eater), Jean Genet, James Joyce, Franz Kafka, Alfred Korzybski (Science and Sanity), Oswald Spengler (Decline of the West), Denton Welch
Education: Harvard University, B.A. (English Literature), 1936
Work Experience: Bartender, Private Detective, Factory Worker, Exterminator, Heroin Addict, Writer
Crucial Year: 1944, Burroughs meets Times Square hustler Herbert Huncke; rolls drunks in subway; becomes a morphine addict
Major Writings: Junkie (1953), Naked Lunch (1959), The Soft Machine (1961), The Ticket That Exploded (1962), Nova Express (1964), The Wild Boys: A Book of the Dead (1971), Exterminator! (1973), Port of Saints (1979), The Place of Dead Roads (1984), Queer (1986), The Western Lands (1987), My Education: A Book of Dreams (1995)
Lost Writing: The Hippos Were Boiled in Their Tanks (collaboration with Jack Kerouac), 1944
Memorable Characters: Dr. Benway, Salt Chunk Mary, Clem Snide the Private Asshole, Danny the Car Wiper, Hamburger Mary, Bradley the Buyer, The Paregoric Kid, Pantopon Rose, The Gimp, The Vigilante, The Shoe Store Kid, Captain Everhard, Dr. "Doodles" Rindfest, The Rube, Placenta Juan the After Birth Tycoon, Dr. "Fingers" Schafer the Lobotomy Kid, Clem and Jody, Autopsy Ahmed, Hepatitis Hal, "Fats" Terminal
Key Terms: Heavy Metal, Nova Mob, Steely Dan, Algebra of Need, Mugwumps, Insect Trust, Throbbing Gristle, Husker Du, Dream Police, Interzone
Subtitle for Junkie: "Confessions of an Unredeemed Drug Addict"
On Junk: "Junk is not, like alcohol or weed, a means to increased enjoyment of life. Junk is not a kick. It is a way of life."
Definition of Naked Lunch: "[A] frozen moment when everyone sees what is on the end of every fork."
Last Line of Naked Lunch: "No glot . . . C'lom Fliday"
Dr. Benway Speaks: "I deplore brutality . . . It's not efficient. On the other hand, prolonged mistreatment, short of physical violence, gives rise, when skillfully applied, to anxiety and a feeling of special guilt."
Drugs of Choice: Morphine, Heroin, Delaudid, Eukodal, Pantopon, Diocodid, Diosane, Opium, Demerol, Dolophine, Palfium, Marijuana, Alcohol
On Addiction: "Whether you sniff it smoke it eat it or shove it up your ass the result is the same: addiction."
On the Life of an Addict: "I did absolutely nothing. I could look at the end of my shoe for eight hours. I was only roused to action when the hourglass of junk ran out."
Comparison to T.S. Eliot: Both born in St. Louis, both descendants of old American families, both attended Harvard University, The Waste Land=Naked Lunch
On T.S. Eliot: "Of course, when you think of it, The Waste Land was the first great cut-up collage."
Literary Circle: Paul Bowles (The Sheltering Sky), Neal Cassady (The First Third), Allen Ginsburg (Howl), Herbert Huncke (The Evening Sun Turned Crimson), Jack Kerouac (On the Road)
As Character in Kerouac's Novels: Will Dennison, The Town and the City; Old Bull Lee, On the Road; Frank Carmody, The Subterraneans; Bull Hubbard, Desolation Angels; Wilson Holmes Hubbard, Vanity of Duluoz
On Kerouac: "[H]e didn't change that much . . . first there was a young guy sitting in front of the television in a tee shirt drinking beer with his mother, then there was an older, fatter person sitting in front of the television drinking beer with his mother."
Recordings: The Elvis of Letters, 1985; Dead City Radio, 1990; Just One Fix (with Ministry), 1992; The Black Rider, 1993; The Priest They Called Him (with Kurt Cobain), 1993); Spare Ass Annie & Other Tales, 1993; Call Me Burroughs (1995)
Films: Burroughs, 1985; Commissioner of Sewers, 1986; Drugstore Cowboy ("Father Murphy" the Junkie Priest), 1989; Towers Open Fire, 1989; Twister (cameo), 1989; Naked Lunch, 1991
First Wife: Ilse Herzfeld Klapper, 1937-1946 (Burroughs only married Klapper so she could flee from Nazi regime in Germany)
Second Wife: Joan Vollmer, 1946 (accidentally shot in the head by Burroughs during "William Tell Act," Mexico City, 1951)
Children: William S. Burroughs Jr. (died in 1981 of "acute gastrointestinal hemorrhage associated with micronodular cirrhosis")
Disciples: Lou Reed, Joe Strummer, David Bowie, Frank Zappa, Debbie Harry, Patti Smith, Iggy Pop, Laurie Anderson, Jim Carroll, David Cronenberg, Tom Waits, Ridley Scott, Kurt Cobain, William Gibson
Interests: Aztec History, Mayan Codices, Cut-Up Writing Techniques, Surrealism, Reich's Orgone Box, Korzbski's Semantics, Scientology, Space Travel, CIA Mind Control, Egyptian Burial Rituals, Shotgun Art, Cats
On the Kennedy Assassination: "Of course it has all the earmarks of a CIA and Mafia job combined."
Residences: New York (the "Bunker"), London, Paris, Mexico City, Tangier, Kansas
Politics: Unaffiliated Conservative Anarchist
On the Future: "The Planet drifts to random insect doom . . ."
Place of Death: Lawrence, Kansas
Cause of Death: Heart Attack
---
---
© 2017 Chinaski, Foley &amp Associates