Seether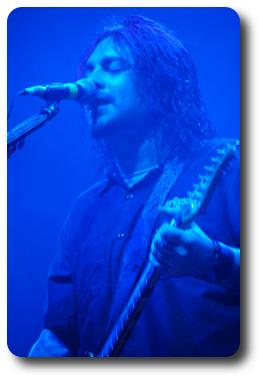 By Rich Weidman

"So find me a way to leave this wasted life behind me . . ."
 
We arrived at the House of Blues, Downtown Disney, promptly at 6 PM and the line had already snaked around the concert hall, stretching toward Village Lake and disappearing as it curved around Wolfgang Puck Cafe. Unlike the wave of sunburned British tourists wandering aimlessly through Downtown Disney West Side like the zombies from Shaun of the Dead, waving their flabby arms and screaming at their moronic kids to behave, we were not here to play virtual reality video games at DisneyQuest or watch Cirque Du Soleil La Nouba. No, our mission tonight was to catch a much-anticipated performance of South African post-grunge band Seether at the House of Blues along with specials guests Flyleaf and Red.
 
Seether, which consists of the extremely talented Shaun Morgan (vocals/guitar), Dale Stewart (drums/vocals) and John Humphrey (drums), was touring to promote its latest album, Finding Beauty in Negative Spaces.
 
A little background first . . . Lately, we have been forced to witness some stale, overblown concerts from bands well beyond their prime, squeezing out the last remnants of fame and glory while forcing their fans to pay ridiculously inflated ticket prices for a "nostalgic" trip down memory lane. I don't know about you but shelling out hundreds of dollars to watch the spectacle of some aging fossil in a wighat stumbling around the stage pretending to enjoy singing a song written some three decades ago is NOT my idea of rock 'n roll. I agree with author John Strausbaugh when he states in Rock Til You Drop that "Colostomy rock is . . . the antithesis of rebellion: it's nostalgia. And nostalgia is the death of rock." But fortunately tonight was totally different—here we were presented with a rare opportunity to catch an awesome band at the height of its creative powers—and Seether delivered!
 
Back to the House of Blues . . . I've never seen so many people pile into a concert hall and I had never been to this venue so I didn't know what to expect inside but the ticket stated, "Standing," so I knew I was going to get wedged somewhere way in the back, far from the madding crowd. Meanwhile, Jim Foley was taking some establishing shots outside and preparing to hit the photographer's pit for the first three songs of Seether's set.
 
So we decided to wait for the absolute last person to file into the concert hall before we made our ignoble entrance. Was it just me or did everybody here seem totally fucked up already? Now don't get me wrong, typically I would get supremely hammered for an event like this but a quick check on the status of my wallet revealed four crumpled one dollar bills—tonight I would be flying sober and I'd have to rely on the energy of the performances to carry me through!
 
Once inside the hallowed halls of the House of Blues Orlando, we tried to get our bearings by weaving our way carefully through the standing-room-only crowd. There were fans literally hanging from the rafters, booze flowing at multiple bars and funky memorabilia everywhere (was that a life mask of Uncle Fester in the upper corner?). We realized that navigating our way to the photographer's pit would present a major challenge so we decided to hang around the bar to the right of the stage near the bouncers area. This gave us an opportunity to catch a couple of songs from the opening act, Red, a highly talented alternative metal band from Nashville, Tennessee, of all places. Although we were not familiar with this band at all, we were both really impressed with their sound. With a little further research after the concert I discovered that Red was nominated for a Grammy Award in the category of "Best Rock or Rap Gospel Album" for their debut album, End of Silence. The album spawned a successful single, "Breathe Into Me." The future looks bright for Red, especially if they can avoid being exclusively labeled as a "Christian Rock" band.
 
Next up was Flyleaf . . . Foley had already hit the photographer's pit to prepare for Seether and honestly I didn't know shit about this band Flyleaf so I was just gonna chill out near the bar and wait for Seether to take the stage. However, all of a sudden Flyleaf launched into a blistering set that was truly impressive! I started to creep closer and closer away from the bar toward the mass of humanity near the stage to see what this band was all about. The crowd was in a frenzy, I saw plenty of instances of slam dancing and crowd surfing and drunken idiots being pulled out of the crowd and dragged off by bouncers. In other words, controlled madness. It was great! I was really impressed with lead singer, Lacey Mosley, she definitely had a mesmerizing presence. In fact, this was one of the most hardcore "Christian Rock" bands I've ever heard. And I even forgave the band for mentioning Jesus Christ at the end of the set, they were that damn good!
 
So now it was time to carefully weave my way even closer to the stage in anticipation of Seether's set. It was tough going but I managed to maneuver down the stairs to the side of the bouncers' station. There I saw Foley in the pit—he had a prime spot and the whole run of the front of the stage but only three songs to get some photos and then the boot. I was stuck in this spot but I had a great view of the stage. However, I was about three feet away from some massive speakers so I knew I was gonna get totally blown away when Seether took the stage. During the opening number, this lamp swung overhead—it was a really cool effect. Seether then tore into all of their greatest hits—old and new—and the crowd really dug it all: "Gasoline," "Fake It," "Broken," "Driven Under," "Fine Again," "Rise Above This," "Remedy" and many more classics. It was an amazing experience hearing all of these great songs live—any Seether fan who hasn't had a chance to catch them live doesn't know what they're missing! Check out the band's upcoming tour dates below and plan a road trip—it's definitely worth the effort! In fact, as we made our way through Downtown Disney on the way to the parking lot, we both agreed it was one of the best concerts we'd witnessed in a very long time . . .
 
Ever since the concert, I've been listening to Finding Beauty in Negative Spaces constantly as I drive aimlessly around the cultural wasteland known as Orlando and let me tell you this is a superb album with solid tracks all around such as "Like Suicide," "Fake It" (see video below), "Breakdown," "FMLYHM (Fuck Me Like You Hate Me)," "Fallen," "Rise Above This," "No Jesus Christ," "6 Gun Quota," "Walk Away from the Sun," "Eyes of the Devil," "Don't Believe" and "Waste." I actually dig all of the songs on the album but my favorite is the sixth track, "Rise Above This."
 
The Seether biography section on the band's official website, www.seether.com, describes Finding Beauty in Negative Spaces as "easily the South Africa-bred, L.A.-based hard rock band's strongest and most innovative studio offering yet." The website also quotes Morgan on the inspiration for the album's title: "At some point in my life I decided to see the good in the bad . . . I was driving home from the studio one day and the title hit me. It's an ambiguous art euphemism. Growing up I was told the negative space in art is as important as what the objects are. But it has a double-sided meaning. Kind of like, I lost my leg but I still have another one. Or, my girlfriend left me and took all the furniture, but I still have my guitar and a mattress."
 
Originally known as Saron Gas, Seether formed in 1999. The band's discography includes Disclaimer (2002), Disclaimer II (2004), Karma and Effect (2005), One Cold Night (2006) and Finding Beauty in Negative Spaces (2007).
---
---
© 2017 Chinaski, Foley &amp Associates