Jack Kerouac: Safe in Heaven Drunk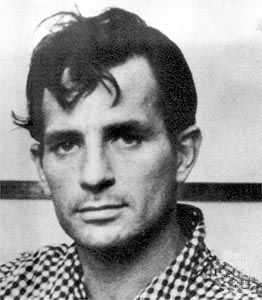 Date of Birth: March 12, 1922
Place of Birth: Lowell, Massachusetts
Actual Name: Jean-Louis Lebris de Kerouac
Nicknames: Ti-Jean (Little Jean), Memory Babe
Family: Leo & Gabrielle Kerouac, parents; Gerard, brother (died at age of 9 of rheumatic fever, 1926); Caroline ("Nin"), sister; Edie Parker, first wife; Joan Haverty, second wife; Stella Sampas, third wife; Jan Kerouac, daughter (died in 1996)
Kerouac Coat of Arms: "Aimer, Travailler, et Souffrir" (Love, Work and Suffer)
Childhood Sweetheart: Mary Carney, immortalized as Maggie Cassidy (1959)
Football Heroics: Scored winning touchdown in high school game against Lawrence in "Turkey Day Classic," Thanksgiving Day, 1938
First Sexual Experience: "Fucked" a neighborhood gal on a crisp fall afternoon in a confessional at St. Jean Baptiste Church, Lowell, Massachusetts
Education: Attended Columbia College (briefly) on football scholarship
Favorite Jazz Musicians: Charlie "Yardbird" Parker, Thelonius Sphere Monk, Zoot Sims
World War II Service: Served (briefly) as merchant marine
Number of Times Kerouac "Got Laid" While WWII Raged: 250
Drug of Choice, War Years: Benzedrine ("speed")
Literary Influences: Thomas Wolfe (Look Homeward, Angel), Walt Whitman (Leaves of Grass), Mark Twain (Huckleberry Finn), Jack London (Call of the Wild), Herman Melville (Moby Dick),
First Novel (Unpublished): The Sea is My Brother (1943)
Major Writings: The Town and the City (1950), On the Road (1957), The Dharma Bums (1958), The Subterraneans (1958), Doctor Sax (1959), Mexico City Blues (1959), Tristessa (1960), Big Sur (1962), Desolation Angels (1965)
Fictional Alter Ego: Jack Dulouz
On the "Dulouz Legend": "My work comprises one vast book like Proust's . . . seen through the eyes of poor Ti Jean (me), otherwise known as Jack Dulouz."
Characters in On the Road: Sal Paradise (Kerouac), Dean Moriarty (Neal Cassady), Old Bull Lee (William S. Burroughs), Carlo Marx (Allen Ginsberg)
Last Lines, On the Road: "So in America when the sun goes down and I sit on the old broken-down river pier watching the long, long skies over New Jersey and sense all that raw land that rolls in one unbelievable huge bulge over to the West Coast, and all that road going, all the people dreaming in the immensity of it, and in Iowa I know by now the children must be crying in the land where they let the children cry, and tonight the stars'll be out, and don't you know that God is Pooh Bear? the evening star must be drooping and shedding her sparkler dims on the prairie, which is just before the coming of complete night that blesses the earth, darkens all rivers, cups the peaks and folds the final shore in, and nobody, nobody knows what's going to happen to anybody besides the forlorn rags of growing old, I think of Dean Moriarty, I even think of Old Dean Moriarty the father we never found, I think of Dean Moriarty."
Interests: "We love everything, Billy Graham, the Big Ten, rock and roll, Zen, apple pie, Eisenhower - we dig it all."
On The Subterraneans: ". . . the book is modelled after Dostoevsky's Notes from the Underground, a full confession of one's most wretched and hidden agonies after an affair of any kind. The prose is what I believe to be the prose of the future, from both the conscious top and the unconscious bottom of the mind, limited only by the limitations of time flying by as our mind flies by with it."
On the Beat Generation: "I want to make this very clear. I mean, here I am, a guy who was a railroad brakeman, and a cowboy, and a football player - just a lot of things ordinary guys do. And I wasn't trying to create any kind of consciousness or anything like that. We didn't have a whole lot of heavy abstract thoughts. We were just a bunch of guys who were out trying to get laid."
On San Francisco's "Poetry Renaissance": "So here comes [Gary] Snyder with a bottle of wine . . . and here comes [Philip] Whalen, and here comes what's his name . . . [Kenneth] Rexroth . . . and everybody . . . and we had the poetry renaissance of San Francisco."
On Beatniks: "It is not my fault that certain so-called bohemian elements have found in my writings something to hang their peculiar beatnik theories on." "I am the king of the beats, but I'm not a beatnik."
On Hippies: "The hippies are good kids. They're better than the beats."
Beat Generation Sells Out: Poet Ted Jones and friends start a "Rent-a-Beatnik" service, charging good money to appear at parties, reading poetry and playing bongo drums.
Truman Capote on Kerouac's Novels: "That isn't writing at all; it's typing."
Small-Time Hustler & Drug Addict Herbert Huncke on Kerouac: "Kerouac was a typical clean-cut American type. He looked to me like the Arrow-collar man."
Key Terms: Spontaneous Prose, Beatific, Joy Rides, Maniacal, Kicks, Frantic
Politics: Conservative
Drug of Choice, 1960s: Port Wine, Southern Comfort
Last Lines, Vanity of Dulouz: "Here's the chalice. Be sure there's wine in it."
Recordings: The Jack Kerouac Collection, Rhino Records, 1990
Films: Pull My Daisy (1959), Heart Beat (1979), Kerouac (1985), What Happened to Kerouac? (1986), The Last Time I Committed Suicide (1997)
Disciples: Bob Dylan, The Grateful Dead, Jim Morrison, Ray Manzarek, Tom Waits, The Grateful Dead, 10,000 Maniacs, King Crimson, David Bowie, Johnny Depp, Ken Kesey, LeRoi Jones (Imamu Amiri Baraka), Hunter S. Thompson, Janis Joplin, David Carradine, Jack Nicholson, Ramblin' Jack Elliott, Nick Nolte, Kim Novak
Favorite Watering Hole: Nicky's Bar, Lowell, Massachusetts
Date of Death: October 21, 1969
Cause of Death: Severe hemorrhage (brought on by mixture of Johnny Walker Red and Dexedrine pills) while watching The Galloping Gourmet at his house in St. Petersburg, Florida; according to death certificate, Kerouac died of "gastrointestinal hemorrhage, due to bleeding gastric varix from cirrhosis of the liver, due to excessive ethanol intake many years"
William S. Burroughs on Kerouac: "All writers lose contact. I wouldn't say that he was particularly miserable. He had an alcohol problem. It killed him."
Final Resting Place: Edson Cemetery, Lowell, Massachusetts
Epitaph on Tombstone: "He Honored Life."
---
---
© 2017 Chinaski, Foley &amp Associates