Top 10 Best Music Videos of the '90s
A quality black-and-white video to accompany a classic Black Crowes tune. What more could you ask for? And it features a hot chick who fits the description of the lyrics perfectly - she "paints her eyes as black as night," she "smiles when the pain comes," she "keeps a lock of hair in her pocket" and she "wears a cross around her neck." And yes indeed, she appears to be struggling with some sort of addiction (heroin, according to most reports).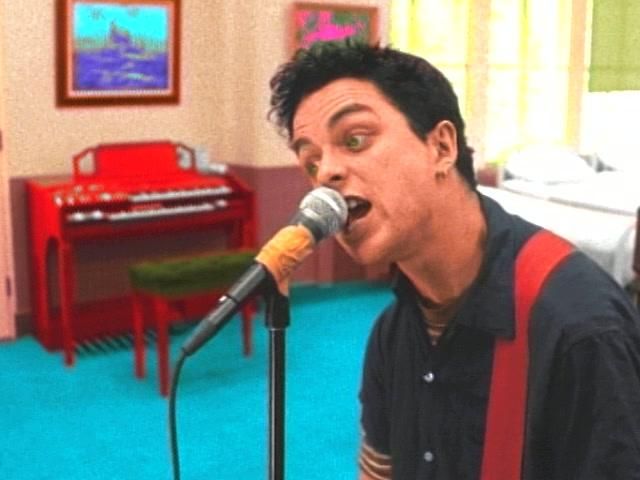 The setting for "Basket Case" is appropriately enough a mental ward straight out of One Flew Over the Cuckoo's Nest. There's even a reenactment of Chief Bromden's escape at the end of that flick but they should have thrown a lobotomy into the mix as well. Also look for the Nurse Ratched wannabe passing out the pills. The video was shot entirely at an abandoned mental institution. The song itself deals with lead singer Billie Joe Armstrong's struggles with panic disorder, or so I hear.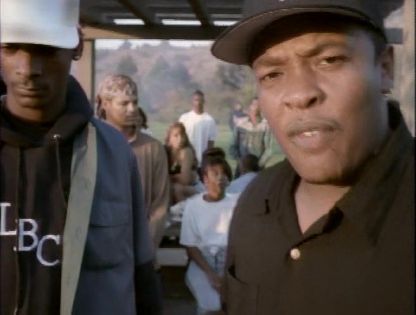 This shit right here is dope . . . Dr. Dre (real name: Andre Romell Young), former member of N.W.A., scored a huge hit with his debut solo album, The Chronic, which reached No. 3 on the Billboard Charts. Because of its drug and sexual references, the music video for "Nuthin' But a 'G' Thang" was heavily censored before it first appeared on MTV. It's simply a great fuckin' song and video. That's all . . .
English rock band Prodigy caused quite an uproar when they released "Smack My Bitch Up" even though they claimed that the song was just a satire of gangsta rap. First the song was banned by the BBC and then the surrealistic video (directed by Swedish film director Jonas Akerlund) was banned for awhile on MTV and then a severely edited version showed up on MTV (but only after midnight). MTV would later claim "Smack My Bitch Up" as the "Most Controversial Video" in the music channel's history. This is a strikingly original music video that features a first-person perspective (an unseen presence until the end), someone who spends a total night of debauchery full of sex, violence and drugs. It's totally awesome!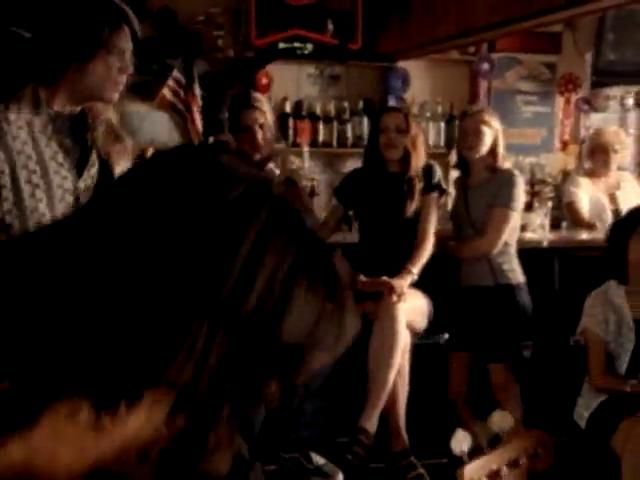 There's no better way to spend a lazy afternoon than getting totally fucked up on ice-cold beer at some cheap dive. That's exactly the atmosphere of Seven Mary Three's "Cumbersome" video. A "post grunge" band, a garage band, a group of Southern rockers or a one-hit wonder? Seven Mary Three (forget any religious significance in the name, the band claims they ripped it off from the late '70s TV show, "CHiPs") cannot be easily classified. In this case, the song and video simply kick ass . . .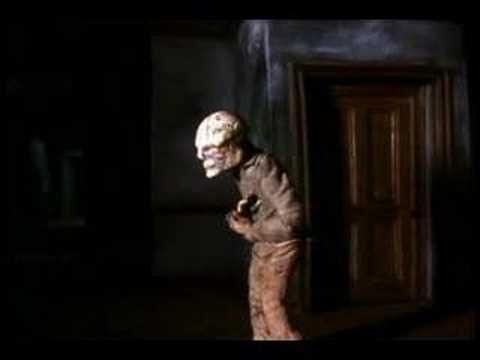 Some astute critic once described William S. Burroughs' classic novel, Naked Lunch, as a "savage cry from hell." This description can easily be applied to Tool's "Sober" video - a full blown assault on the senses filmed using stop-motion animation and teeming with nightmarish imagery. It's an existential vision of confinement, addiction and a life totally devoid of meaning. "Why can't we sleep forever? I just want to start this over . . ."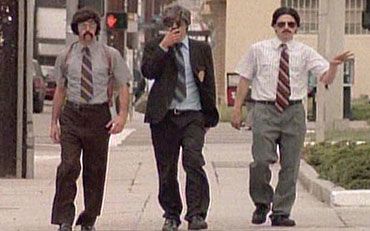 Spike Jonze (Being John Malkovich) directed this classic Beastie Boys video that parodies the opening credits of a number of TV police thrillers from the '70s such as Starsky & Hutch, Kojak, Hawaii 5-0, Police Woman, The Mod Squad, S.W.A.T. and Baretta. The "Sabotage" video stars Sir Stewart Wallace as himself (MCA), Nathan Wind as Cochese (MCA), Vic Colfari as Bobby the Rookie (Adrock), Alasondro Alegre as The Chief (Mike D) and Fred Kelly as Bunny (DJ Hurricane).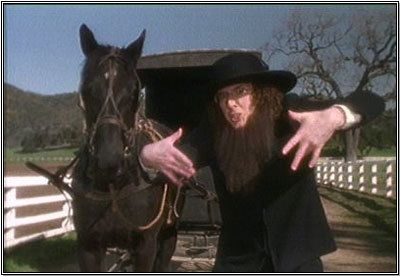 A parody of Coolio's "Gangsta's Paradise," which was itself "sampled" from a Stevie Wonder song, "Amish Paradise" pokes fun at the rap community while simultaneously slamming the self-righteous morality of the Amish. (Yes, that is indeed Brady Bunch mom Florence Henderson in the Michelle Pfeiffer role!) "Amish Paradise" serves as Weird Al's most entertaining and effective parody. "When I had to think of the opposite of gangsters, I thought of the Amish," said Weird Al in an interview. "They are diametrically opposed; I can't imagine anything further apart." Yankovic claimed that one of his main research sources was the 1995 movie Witness, which starred Harrison Ford. Favorite image in the video: Amish teens slobbering over a porno mag called Amish Babes. Bottom line: The Amish community hasn't been skewered this completely since Kingpin. Controversy soon reared its ugly head after Coolio declared that he had never been asked permission from Al to proceed with the parody. Apparently, Al decided to give the flash-in-the-pan rapper half of the royalties from the song, a move that cooled the controversy to say the least. With Coolio out of the way, Weird Al later claimed he feared an "Amish drive-by." From the moment "Amish Paradise" was first aired, Coolio became a total joke. He hasn't been heard of since. Believe it or not, in the late 1990s, members of an Amish "gang" were arrested for dealing drugs... "A local boy kicked me in the butt last week | I just smiled at him and I turned the other cheek | I really don't care, in fact I wish him well | Cause I'll be laughing my head off when he's burning in Hell"
A classic music video full of disturbing imagery, "Jeremy" profiles an alienated, self-destructive youth who ends up killing himself in front of his class at school. What sent this poor kid over the edge? It was his parents, of course! Along with Nirvana's "Smells Like Teen Spirit," "Jeremy" introduced existential angst to the music video and signaled the demise of the heavy metal "hair bands." The song itself was one of the highlights of Pearl Jam's masterpiece, Ten, which also includes such classics as "Once," "Alive," and "Black." In an interview, lead singer Eddie Vedder claimed that inspiration for the song came from a story he saw in a newspaper about a kid who shot himself in front of his English class in Richardson, Texas. "Jeremy" cleaned up at the MTV Video Music Awards, winning Video of the Year, Best Group Video, Best Metal/Hard Rock Video and Best Direction. In 1997, the video was used as part of the defense of a teenager who killed two of his fellow students and a teacher at his high school the year before. The 16-year-old was found guilty of murder anyway. "Jeremy" is ranked No. 19th among MTV's 100 Greatest Music Videos. "Jeremy spoke in class today | Jeremy spoke in class today | try to forget this | try to erase this | from the blackboard..."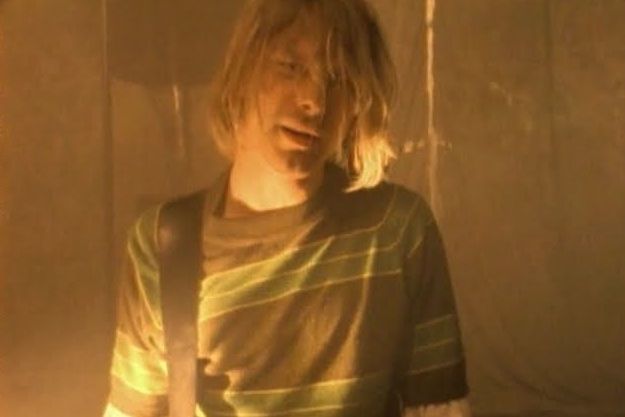 I'm worse at what I do best | And for that gift I feel blessed..." A blindsiding attack on the senses, the "Teen Spirit" video takes place in a high school gym, a doped-out pep rally that evolves into an intense and disturbing inferno that would make Hieronymus Bosch proud. It's a riot worthy of Stravinsky's "Rite of Spring." The short-lived "Grunge Movement" out of Seattle produced at least three classic videos: Soundgarden's "Black Hole Sun," Pearl Jam's "Jeremy" and this nihilistic hit that shows Kurt Cobain and his cohorts at their very best. The whole thing serves as a prolonged and collective FUCK YOU to everything and everybody. The impact of the video and the album Nevermind spread throughout the music world like a wildfire. It was obvious that MTV had come a long way since playing "Jessie's Girl" night and day. Even more important, "Smells Like Teen Spirit" served to bury all of those obnoxious Heavy Metal Hair Bands like Poison and Motley Crue, whose members would soon resurface as drug-addled survivors of the '80s as documented on VH1's "Behind the Music." By the way, "Teen Spirit" was a brand of deodorant. In January 1992, Nevermind hit No. 1. The skyrocketing success of the band did heavy damage to its rebellious persona. Soon alternative became commercial. Grunge officially died the day Weird Al released his parody, "Smells Like Nirvana" - "What is this song all about? | Can't figure any lyrics out | How do the words to it go? | I wish you'd tell me, I don't know." On April 5, 1994, lead singer Kurt Cobain committed suicide with a shotgun blast to the head. His body was discovered three days later. He was just 27 years old. Nirvana's album Nevermind still retains its power more than 10 years later while other grunge bands have totally faded out (with Pearl Jam as an exception).
---
---
© 2018 Chinaski, Foley &amp Associates