Top 10 Worst Music Videos of the '80s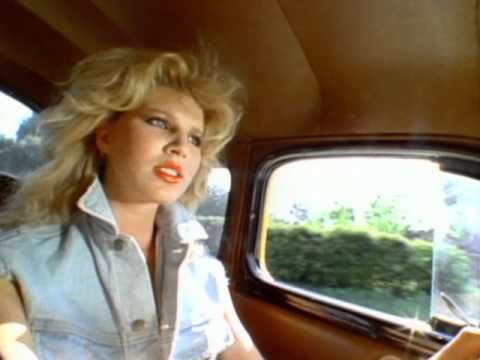 She's so young at heart | She likes the pleasure of his company | She cuts the inside grove | With her silver spoon | She likes her tapes on 10 | And it's the same as her anatomy | She's on a rainbow cruise | All the way to my room

The video starts out with the band strutting and grunting like a bunch of imbeciles atop a pyramid of powder kegs. Then we cut to a hot chick driving a yellow pickup truck. She's got a great body but a close-up shot reveals that she's got more makeup caked on her face than Tammy Faye. As she's driving along, all of a sudden a barrel that reads "NITRO" starts chasing the truck for some unknown reason. Then we cut back to the band once again dancing like idiots atop the pyramid of powder kegs. Then back to the chick, who has by now run out of gas. She gets out of the rig and before you know it she's strolling through a field of gasoline pumps. Then we cut back to the band members, one of which is playing drums with gasoline nozzles. The video ends with a shot of the girl glaring straight at the camera like some cheap slut at a keg party who starts to look good after six or seven beers. Basically a bunch of ass clowns trying to act tough by wearing bandannas, Loverboy apparently appealed to an audience of sixth-grade girls, who bought up their crappy albums in droves. Here's what the Rolling Stone Album Guide had to say about this mediocre, unoriginal band: "Compared to Loverboy, Journey seems like a blazingly innovative band and Billy Squier could pass for an idiosyncratic auteur." The "Hot Girls" video is reminiscent of Journey's "Separate Ways," which was voted Alternative Reel's all-time worst music video. Loverboy continues to tour and put out mediocre CDs, although its glory days are long, long gone. For instance, in 2001, the band headlined at the Benton County Fair in Corvallis, Oregon. Loverboy will always be known as one of the most successful rock groups to come out of Canada, a dubious achievement at best.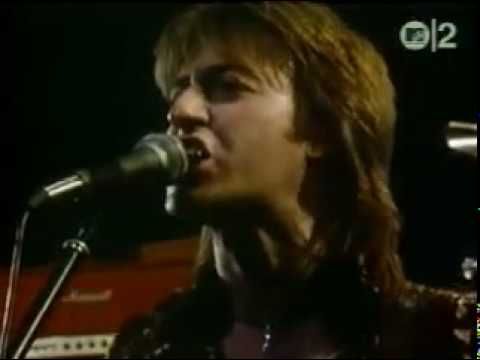 Life is just a fantasy, can you live this fantasy life...
 
Aldo Nova's "dramatic" arrival by helicopter at the beginning of "Fantasy" may very well be the dumbest single moment in music video history . . .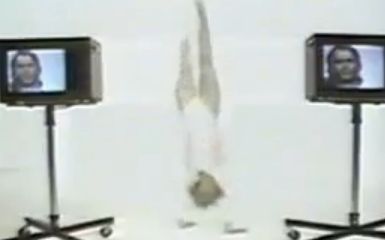 You're leaving now | It's in your eyes | There's no disguising it | It really comes as no surprise...
 
This video must have seemed real innovative back in 1982 - however, today it comes off as a true relic of early MTV, laughable and totally ridiculous. In fact, it looks like some amateur Nam June Paik ripoff with all the TVs stacked on top of each other. And what's with the gymnast doing backflips on the television sets? Inexplicably, the album Asia reached No. 1 on the Billboard Charts and also included the hit, "Heat of the Moment." In The 40-Year-Old Virgin, one of the characters tells another: "Do you want to know how I know you're gay? Because you like Asia." What a great line . . .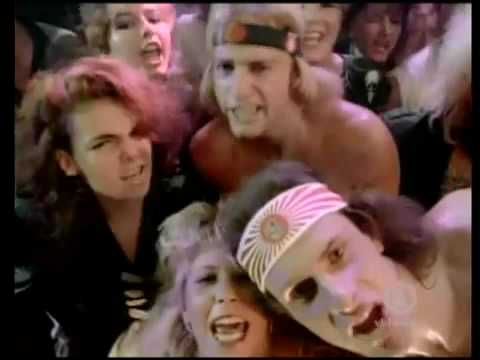 For every minute I have to work | I need a minute of play...
 
One-hit wonders all the way, Autograph first received a modicum of exposure as the opening act for Van Halen in 1984. Honestly, can you name one other Autograph song off the top of your head? Okay, I'll give you "Blondes in Black Cars," but that's it! Bottom line: If Autograph ever reunited, do you think anyone would show up?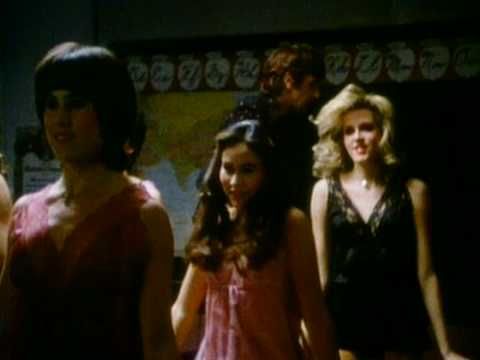 A part of me has just been ripped | The pages from my mind are stripped
 
A loser picks up a porno mag at his neighborhood newsstand and discovers that an old girlfriend (or perhaps just a high school crush) has spread her legs in the centerfold. The incident affects him deeply ("my memory has just been sold"), but he purchases the magazine anyway. Very average looking "sluts" dance around in skimpy lingerie during the whole drama. Remember how this song - along with the band's other surprising hit, "Freeze-Frame" - rang through your hollow ears during the early 1980s like a plague of starving locusts? I feel sorry for anyone who actually ran out and bought this dreck after viewing the video on MTV about 10,000 times. The quality values on this thing were definitely bottom of the barrel, making it look exactly like some cheap porno flick from the late 1970s (sans the nudity). Apparently, "Centerfold" was shot in the middle of the night at some elementary school. Worst of all, the "strippers" in this video look like they would have a hard time making it into the pages of Hustler's "Beaver Hunt." Formed way back in 1967, the band toured for years trying to hit the big time and then took a nosedive within a couple of years of achieving success. Lead singer Peter Wolf hit the road and the J. Geils Band disbanded in 1985. However, as usual with these bands that hit it big on MTV in the early 1980s, the J. Geils Band just won't go away. They reunited in the late 1990s (sometimes playing under bogus names like "Juke Joint Jimmy") and are scheduled to appear soon at the Holiday Inn bar near you.
Once upon a time I was falling in love | But now I'm only falling apart | There's nothing I can do | A total eclipse of the heart | Once upon a time there was light in my life | But now there's only love in the dark | Nothing I can say | A total eclipse of the heart...
 
Teamed with eccentric producer Jim Steinman (the guy to blame if you hate Meat Loaf's entire body of work), Bonnie Tyler hit it big with "Total Eclipse of the Heart," an overwrought, pretentious (see "Don't Pay the Ferryman review") but catchy ballad. Somehow this thing managed to skyrocket to the top of the charts in the U.S. and overseas. The action takes place in this huge mansion. The fog machine's working overtime in this thing, folks. There's doves flying around, swinging chandeliers and candles everywhere. What's with all the school kids emitting those light beams from their eyes? How about the choreographed ninja routine and the team of gymnasts? How about the dudes trashing the dinner table? Why not throw some football players into the mix? It's all absolutely meaningless, totally over the top and one of the dumbest music videos of all time. For trivia buffs, Bonnie Tyler's real name is Gaynor Hopkins. Do you think she would have ever scored a hit as Gaynor Hopkins? Very unlikely. If you were around in the summer of 1983, you heard this song on the radio about once every 10 minutes and MTV screened the video in an endless loop. After a couple of failed collaborations with artists such as Welsh singer Shakin' Stevens and Todd Rundgren, and another hit for the soundtrack of Footloose, "Holding Out for a Hero" (also penned by Steinman), Tyler totally disappeared into obscurity... "Turnaround bright eyes, every now and then I fall apart..."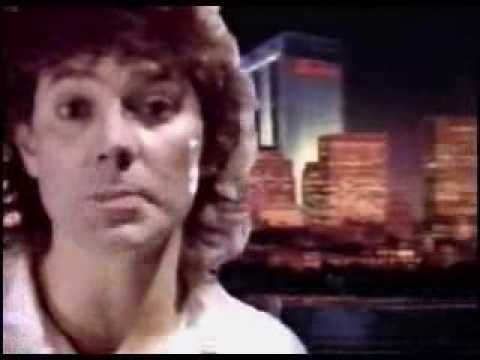 It's just another Sunday | In a tired old street | Police have got the choke hold | Oh, and we just lost the beat...

"We Built This City" was named by VH1 as one of "The 50 Most Awesomely Bad Songs...Ever" in 2004. I don't think VH1 was generous enough - I truly believe "We Built This City" to be one of the worst songs in the history of music. Come on, can you name a song that sucks ass more than "We Built This City"? This piece of shit actually reached No. 1 on the Billboard Charts! The video is equally banal and ridiculous - at one point for instance, Abraham Lincoln himself rises up from the Lincoln Memorial to sing a lyric from the song (I'm not fuckin' kidding, this has to be seen to be believed!). Some writer on a dare once sat in a booth for 24 hours while "We Built This City" played endlessly - he later had to be hospitalized for temporary insanity. This is a true story, look it up for yourself . . .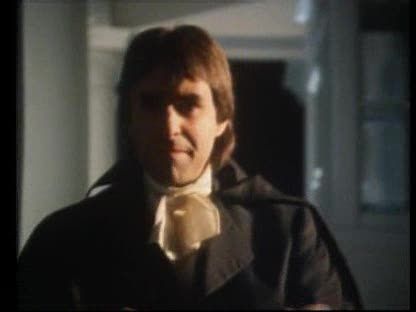 Don't pay the ferryman! | Don't even fix a price! | Don't pay the ferryman | Until he gets you to the other side.
 
Overwrought and pretentious, "Don't Pay the Ferryman" was an unlikely hit from this Irish musician (he looks to me like Dudley Moore's younger, dumber brother), who was also responsible for another travesty - "The Lady in Red." Apparently Princess Diana was a fan of this guy - I have never heard ANYONE else admit they liked this crap. This music video reminds me of a scene from some third-rate Lord of the Rings ripoff. What's with the cape?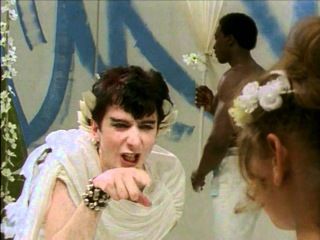 Sometimes I feel I've got to | Run away I've got to | Get away From the pain that you drive into the heart of me...

This quite possibly could be the worst video I've EVER watched, I honestly can't think of anything worse right now. I'd rather scrape excrement off the bottom of my shoe than endure the "Tainted Love" video again. I'm serious. Then I realized I was watching the UK version, so I actually watched the U.S. version - just as bad if not worse! "Tainted Love" spent a total of 43 fuckin' weeks on the Billboard Charts. Turns out that this song isn't even original with Soft Cell - it was first recorded by Gloria Jones back in 1964. It has been "interpreted" by a number of other singers and groups, namely Marilyn Manson in 2001 and The Pussycat Dolls in 2005. I find the rest of Soft Cell's output unlistenable.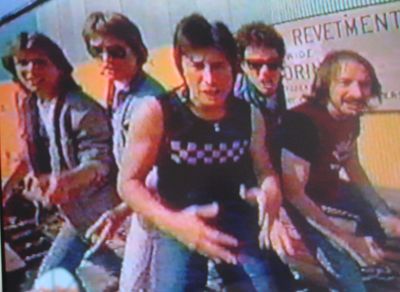 Here we stand | Worlds apart, hearts broken in two, two, two | Sleepless nights | Losing ground I'm reaching for you, you, you...

"Someday love will find you, Break those chains that bind you"... The action takes place on a wharf for some unknown reason. The band plays invisible instruments. Lead singer Steve Perry, dressed in a "muscle shirt," overacts shamelessly and grimaces maniacally like he's got a severe case of constipation. The rest of the band members join in with some grotesque, pseudo-macho posturing. One of the band members even plays a stirring air guitar. A hot chick strolls by as the guys drool and slobber over her. MTV itself signaled this music video out as one of the 25 videos that would never again see the light of day (along with such masterpieces as "Ice Ice Baby" from Vanilla Ice).
---
---
© 2017 Chinaski, Foley &amp Associates