Top 10 Forgotten Movie Classics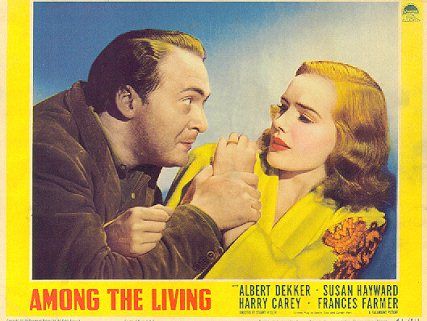 An offbeat horror suspense film directed by Stuart Heisler, Among the Living stars Albert Dekker (Dr. Cyclops) as twin brothers John and Paul Raden, the latter of whom is totally insane and has spent the past 10 years secretly confined in a straitjacket in the family's creepy, decaying Gothic-style mansion. After the death of the twins' father, all hell breaks loose. The solid cast includes Harry Carey (as the sleazy Dr. Ben Saunders), Susan Hayward (the gold digger Millie Pickens), Frances Farmer (Elaine Raden) and Ernest Whitman (Pompey). The screenplay was written by Garrett Fort and Lester Cole, who was later blacklisted as a member of the "Hollywood Ten." A compact thriller that clocks in at just 67 minutes, Among the Living rises above its B-movie status.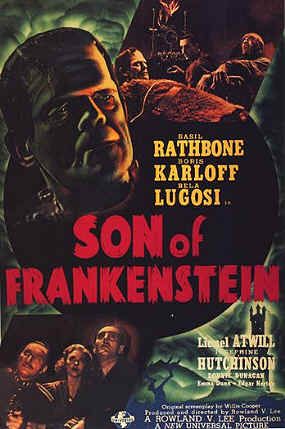 "Nothing in nature is terrifying when one understands it." The third film in Universal's Frankenstein series and the sequel to Bride of Frankenstein (1935), Son of Frankenstein was directed by Rowland V. Lee and starred Basil Rathbone as Baron Wolf von Frankenstein, Boris Karloff as The Monster, Bela Lugosi as Ygor, Lionel Atwill as the one-armed Inspector Krogh and Josephine Hutchinson as Elsa von Frankenstein. Son of Frankenstein represented Karloff's last appearance in the role of The Monster.

Directed by Howard Hawks (Scarface), The Crowd Roars boasts a stellar cast that includes James Cagney, Joan Blondell, Ann Dvorak (who played "Cesca" in Scarface), Eric Linden, Guy Kibbee (as "Pop Greer") and Frank McHugh (as the ill-fated "Spud Connors"). Cagney portrays a drunken race car driver (Joe Greer) who tries to discourage his younger brother Eddie from following in his footsteps, while protecting him from the "booze and women" that he believes are leading to his own downfall. The race car sequences are about what you would expect from an early 1930's flick – very unrealistic with the fake screen looming behind every driver. All in all, it's a fun ride – fast paced with loads of witty dialogue. By the end, Cagney has hit rock bottom but (what do you know!) he eventually gets a shot at redemption. Critic Leonard Maltin remarked, "Cagney in typically cocky role, familiar plot devices, but well done by Warner Bros. stock company." Look for cameos by actual Indy race car drivers such as Billy Arnold, Fred Frame, Ralph Hepburn, Wilbur Shaw, Shorty Cantlon, Mel Keneally and Stubby Stubblefield, as well as famous racing mechanic Spider Matlock. The film was remade as Indianapolis Speedway in 1939.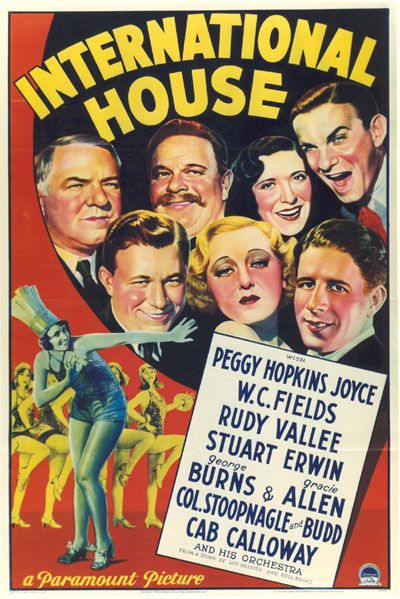 Unfairly neglected comedy classic, which surreally spoofs Grand Hotel, was directed by A. Edward Sutherland and stars W. C. Fields, George Burns, Gracie Allen, Rose Marie and Bela Lugosi (Gen. Nicholas Petronovich). Cab Calloway sings "Reefer Man"—"Man, what's the matter with that cat there? Must be full of reefer . . ."
"Powderpuff punch and a glass jaw… that's a great combination!" Humphrey Bogart's last film (he passed away the following year) in which he portrays a cynical, out-of-work sportswriter named Eddie Willis who becomes a press agent for boxing racketeer Nick Benko (Rod Steiger). Directed by Mark Robson (Champion) and based on a 1947 novel by Budd Schulberg, this film noirish classic (loosely based on the Primo Carnera boxing scandal) is still the harshest indictment of boxing to make its way to the silver screen. It makes Rocky look like a stroll through the Mall of America. The cast includes professional wrestler Mike Lane as "Toro Moreno," Jan Sterling as "Beth Willis," Carlos Montalban as "Luis Agrandi" and Jack Albertson as "Pop." Boxers Jersey Joe Walcott and Max Baer also appear in the film. The Harder They Fall would make a good double feature with The Harder They Come (1972), which starred reggae singer Jimmy Cliff.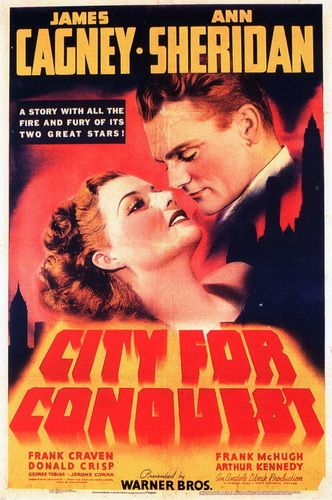 The original tough guy, James Cagney, portrays a New York City cab driver named "Danny Kenny" who boxes to support his brother Eddie (Arthur Kennedy) while he tries to make it as a composer. On his way to the top, Cagney loses the woman he loves, Peg (Ann Sheridan), and ends up with a one-way ticket to Palookaville. Look for Anthony Quinn as a ballroom dancer (!) and Elia Kazan as a neighborhood kid who becomes a sleazy gangster. City for Conquest was directed by Anatole Litvak (The Snake Pit) and based on a novel by Aben Kandel.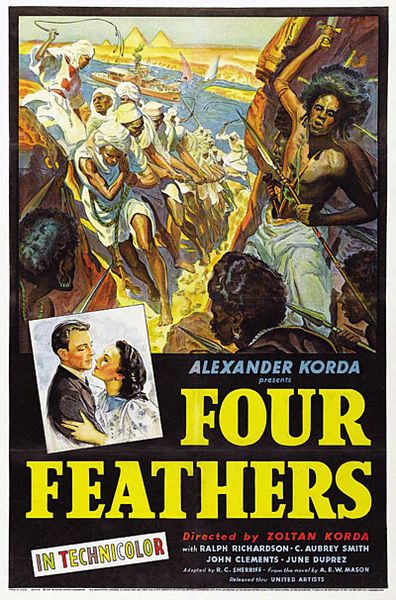 "If I'd been anything but a soldier I might have lived my whole life and concealed it. But to be a soldier and a coward is to be an imposter, a menace to the men whose lives are in your hands." Based on a 1902 adventure novel by British author A.E.W. Mason, The Four Feathers concerns a British army officer, Lieutenant Harry Faversham (John Clements), who is accused of cowardice and sets forth on a quest to redeem his honor. Directed by Zoltan Korda, The Four Feathers, which was mostly filmed on location in the Sudan, also stars Ralph Richardson, Donald Gray, Jack Allen, June Duprez, Allan Jeaves and C. Aubrey Smith. The film was nominated for the Academy Award for Best Cinematography but lost out to Gone with the Wind.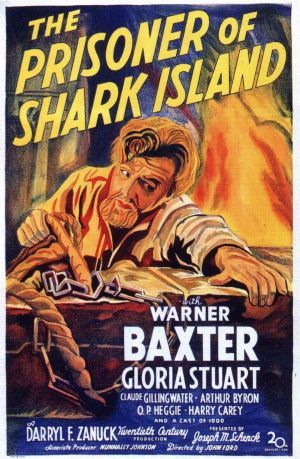 "Once before I was a doctor. I'm still a doctor." A highly fictionalized but very entertaining film based on the story of Dr. Samuel Mudd (Academy Award-winning actor Warner Baxter), The Prisoner of Shark Island was directed by John Ford (The Searchers). In 1865, Mudd was convicted of aiding and conspiring with John Wilkes Booth in the 1865 assassination of President Abraham Lincoln and sentenced to life imprisonment (Mudd had set Booth's broken leg). Mudd was shipped off to Shark Island – "America's own Devil's Island" (actually Fort Jefferson in the Dry Tortugas, about 70 miles West of Key West, Florida). Gloria Stuart (Titanic) portrays Mudd's long-suffering wife Peggy, while John Carradine is perfectly cast as Sgt. Rankin, a sadistic prison guard. After his heroic actions during a yellow fever epidemic on the island, Mudd is eventually released and reunited with his wife.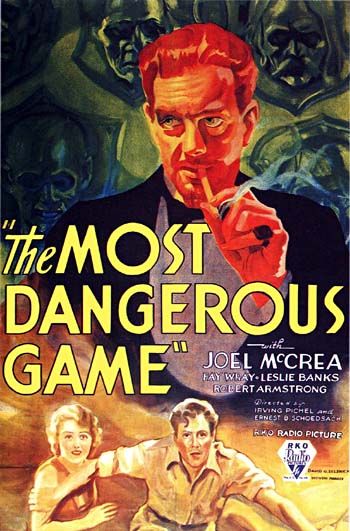 "This world's divided into two kinds of people: the hunter and the hunted. Luckily I'm the hunter. Nothing can change that." Based on a famous short story of the same name (also published as The Hounds of Zaroff) by author Richard Connell that appeared in a 1924 issues of Collier's Weekly, The Most Dangerous Game concerns a big game hunter named "Bob Rainesford" (Joel McCrea) who survives a shipwreck and swims to an island where he is hunted by the insane "Count Zaroff" (Leslie Banks). The island includes other survivors from an earlier shipwreck – "Eve" (Fay Wray) and her brother "Martin" (Robert Armstrong). Beware: Something gruesome lurks in the Count's "Trophy Room." Evil henchman "Ivan" (Noble Johnson), "Tartar" (Steve Clemente) and "Captain" (William B. Davidson) round out the cast. With a running time of just 63 minutes, The Most Dangerous Game cuts to the chase quickly and features a thrilling struggle for survival in the jungle. Directed by Ernest B. Schoedsack and Irving Pichel, The Most Dangerous Game was filmed on the same sets used for the "Skull Island" scenes in King Kong (1933) and utilized some of the same cast, including Wray, Armstrong and Clemente. The film was remade in 1945 as A Game of Death and in 1956 as Run for the Sun.
"There he is, The Geek! . . . Is he the missing link? Is he man or beast? Some have pronounced him man. But beneath that shaggy mane of hair lies the brain of a beast." Through sheer arrogance and stupidity, Stan Carlisle (Tyrone Power) devolves from a carnival barker and spiritualist known as "The Great Stanton" into a circus sideshow geek who eats the heads off of live chickens. Joan Blondell portrays "Mademoiselle Zeena." Classic film noir, which highlights carny outcasts and explores the sleaziness and desperation of carnival life, also stars Coleen Gray, Ian Keith and Helen Walker. Directed by Edmund Goulding (Grand Hotel), Nightmare Alley was based on a novel of the same name by William Lindsay Gresham (1909-62), who also wrote Monster Midway: An Uninhibited Look at the Glittering World of the Carny (1954). Gresham led a rather tragic life himself and overdosed on sleeping pills at the Dixie Hotel in New York City in 1962 at the age of 53. Nightmare Alley would make a good double feature with Alisson Murray's excellent 2007 documentary, Carny.
---
---
© 2018 Chinaski, Foley &amp Associates