Top 10 Most Obnoxious Oscar Moments
In 2005, George Clooney's affected Oscar speech for the baffling Syriana summed up just how deeply Hollywood's head is implanted up its ass. Responding to host Jon Stewart's earlier dig that Hollywood was out of touch with America, Clooney said: "I would say that we are a little bit out of touch in Hollywood . . . It's probably a good thing. We were the ones talking about AIDS when it was just being whispered, and we talked about civil rights when it wasn't popular and this group of people gave Hattie McDaniel an Oscar in 1939 when blacks were sitting in the backs of theaters." Clooney failed to mention how this same group shoved more ethnic stereotypes down people's throats than racist Uncle Lou the master impressionist at a family barbecue.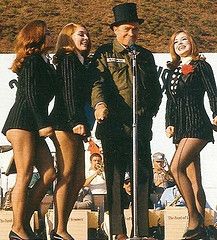 The film chosen as the best documentary for 1974 was "Hearts and Minds" a hard-hitting documentary on the Vietnam War by Burt Schneider. Bob Hope, one of the hosts that night was featured in the documentary in a less than flattering light: as a hack comedian and cheerleader for an unjust war (in other words, accurately). He was no doubt refraining from doing knuckle bumps with anyone when Schneider was announced as the winner, but was peeved into action when the documentarian took the opportunity to read a message from the North Vietnamese after the recently signed Paris Peace Accords: "Please transmit to all our friends in America our recognition of all they have done on behalf of peace." Jane Fonda obnoxious? Sure, but the guy had just won an Academy Award for a film condemning the Vietnam War, so fair pool. A furious Hope scribbled down a message and cajoled fellow presenter, Frank Sinatra, into reading it, purportedly "on behalf of the Academy". "We are not responsible for any political references made on the program, and we are sorry they had to take place this evening." Hope became persona non grata at the Oscars following this for invoking the name of the academy because of his bruised ego.
In 1977, singer Debby Boone performed "You Light up My Life" at the ceremony. The ditty would later go on to win an Oscar for songwriter Joseph Thompson, who would go another few decades without accomplishing much before returning to the limelight as a defendant in a slew of rape cases. Boone thought it wasn't fair that deaf people should be kept from enjoying this terrible song, so she brought a group of 11 kids on stage to sign the song for the hearing impaired watching the broadcast. As it turned out, the 11 kids were not deaf, as everybody had assumed they were, and had no clue how to sign. Deaf people called the performance "mumbo jumbo" and likely offered up a single digit you don't need conversational ASL to comprehend.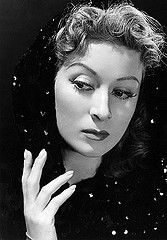 Greer Garson won the Academy Award for her role as a strong wife and mother in World War II England and to support the war effort, the Oscars that year were made of plaster (producers of the Adult Video Awards take note)—a fact you can pull out of your hat if charades fails to enliven the dullest party imaginable. Garson rambled on for what the Guinness Book marks as the longest Oscar acceptance speech in history, one that made the Gettysburg address seem like a knock-knock joke. The presenter sat down and in an eerily prescient moment being that Cuba Gooding hadn't even been born yet, Garson touched on the arbitrary nature of the awards. Wags dubbed it longer than her performance in the film and due to her long-windedness, speeches were capped.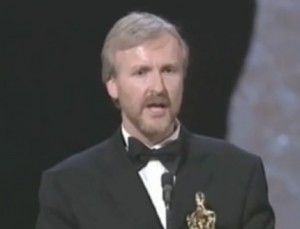 Fittingly, as he also directed the Abyss, just when you thought things couldn't sink any lower, Cameron proved the sea bottom could still be trawled. After thanking the cast earlier for giving him "pure gold every day" (since this is one of the worst films ever to win an Oscar, we'd hate to see how things would've turned out if they'd given him the stuff that rusts), Cameron noted "this is for a real event that happened when real people died and shocked the world in 1912 and I'd like…to do a few seconds of silence in remembrance of 1500 men, women and children who died." Don't' forget, earlier he'd completely shattered whatever sense of solemnity he'd manage to craft among the drunken Hollywood assembled, by pumping his fist in the air and shouting: "I'm the king of the world!" not to mention following up that moment of silence with "now let's party 'til dawn!"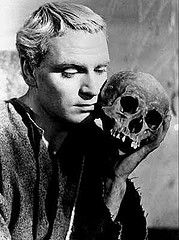 Olivier is often considered the greatest Shakespearean actor ever to fill out a codpiece while many of his acting rivals only graced a stage when it came time to bask in the glow of their charitable foundations. Olivier has consistently avoided the type of movie that topped box offices that year, such as Meatballs and The Muppet Movie and could've elevated the tone of the proceedings by dropping a bit of the ol' Bard rather than copy that would've been edited out of the shittiest 'thank you' card, with this: "The prodigal, pure, human kindness of it [the Academy giving Olivier the award]—must be seen as a beautiful star in that firmament which shines upon me at this moment, dazzling me a little, but filling me with warmth and the extraordinary elation, the euphoria that happens to so many of us at the first breath of the majestic glow of a new tomorrow."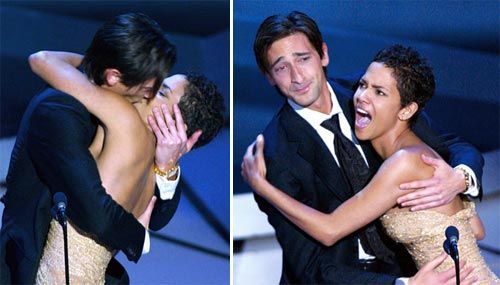 Brody won the Oscar for The Pianist and must have made the director of that film, Roman Polanski proud when he grabbed presenter Halle Berry and dipped the actress for an ill at ease lip-lock. He then cemented himself as a likely pincher of flight attendant bottoms with the lecherous quip: "I bet they didn't tell you that was in the gift basket." A follow-up was a meandering spiel mercifully interrupted by the band– a full minute after the usual cut-off time – but not soon enough to prevent Brody from sharing his revelation that war is indeed an ugly thing.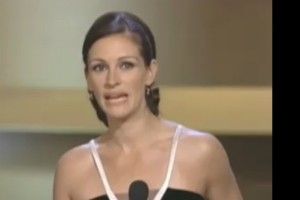 In 2001, Roberts, previously known for being out-acted by her body double in Pretty Woman, beat out Joan Allen, Ellen Burstyn, Juliette Binoche and Laura Linney – all far superior actresses. Roberts neglected any pretense of trying to keep things moving along with an under-two-minute speech, by going over six. Given lightning is unlikely to strike twice and she'll never be granted hardware again, we can cut her some slack, but what made her speech particularly intolerable was her haughty bossing of the orchestra conductor. "You're so quick with that stick, mister man, so why don't you just sit down."  Why the poor slob didn't strike up the band with an up tempo "Roll out the Barrel", we'll never know.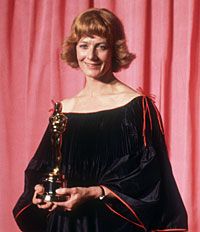 When Michael Moore won his Oscar for Bowling for Columbine, he proved himself one of the more disliked people in Hollywood by actually being booed by a room full of liberals when he called Bush 43 a "fictitious president" leading the country into a "fictitious war" (the latter sentiment likely not sitting well with the families of soldiers having their "fictitious asses" shot off overseas). But he at least won the award for what could loosely be deemed 'a political documentary'. Vanessa Redgrave's Oscar came for her role in Julia in which she played a woman struggling against tyranny in Nazi Germany, so it seemed incongruous to say the least, to single out "Zionist hoodlums" during her speech. That anger stemmed from a sympathetic documentary Redgrave made that same year about the PLO. While "hoodlums" were burning her in effigy in the stadium car park Redgrave said: "I think you should be very proud that in the last few weeks you've stood firm and you have refused to be intimidated by the threats of a small bunch of Zionist hoodlums, whose behavior is an insult to the stature of Jews all over the world."
FACTOID: Redgrave's middle finger was compounded by further obnoxious behavior later on in the night when screenwriter Paddy Chayefsky, there to present the award for best screenwriter, decided to upbraid Redgrave for her speech earlier in the evening: "I would like to suggest to Miss Redgrave that her winning an Academy Award is not a pivotal moment in history, does not require a proclamation and a simple 'Thank you' would have sufficed." It would have sufficed for Chayefsky to announce the names of the nominees rather than just blurting out the name of the winner following his rant.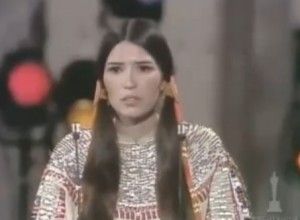 Winning his first Oscar in 1959 for On the Waterfront, Marlon Brando accepted the award with humility, grace and brevity worthy of rousing applause. "It's a wonderful moment and a rare one," he said, "and I'm certainly indebted. Thank you." Fast forward to 1973 when it was pretty much assured that Brando would win the Oscar for The Godfather, and he pulled off the most obnoxious stunt in the history of the Academy Awards. Instead of attending the ceremony, Brando sent Sacheen Littlefeather, supposedly as a representative of the Apache tribe, to read a prepared statement about Hollywood's negative treatment of Native Americans. There were probably a few Italians in the house who found this ironic. Littlefeather, whose Apache credentials later came into doubt as she was reported to be a Mexican actress, had been given a 15-page statement by Brando to read, though the booing and catcalling that greeted her speech cut that short.
Top 10 List Courtesy of The Shark Guys
---
---
© 2018 Chinaski, Foley &amp Associates