Top 10 Animated Christmas Villains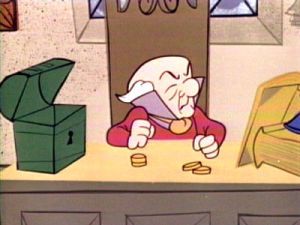 "Bah, Humbug!" The original animated holiday special starring the nearsighted curmudgeon, Mister Magoo's Christmas Carol is a musical version of Dickens' classic tale, A Christmas Carol, which features the voice talents of Jim Backus, Morey Amsterdam and Jack Cassidy.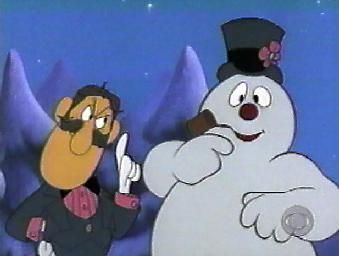 "I must get that hat back! Think nasty, think nasty, think nasty!" A failed magician's top hat is recovered by a couple of kids who bring Frosty the Snowman to life. The posse, which includes the professor's rabbit, Hocus Pocus, heads to the North Pole with Professor Hinkle in hot pursuit. Jimmy Durante narrates the tale. Skip the crappy "sequel," Frosty Returns [1992], which offers none of the original's charm.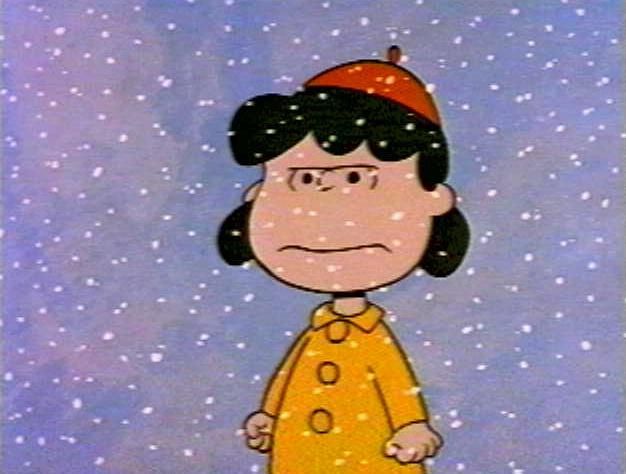 "Look, Charlie, let's face it. We all know that Christmas is a big commercial racket. It's run by a big Eastern syndicate, you know." Lucy persuades Charlie Brown to become director of the Christmas play and then berates him for all of the bad decisions he makes such as picking out the most pathetic Christmas tree on the lot.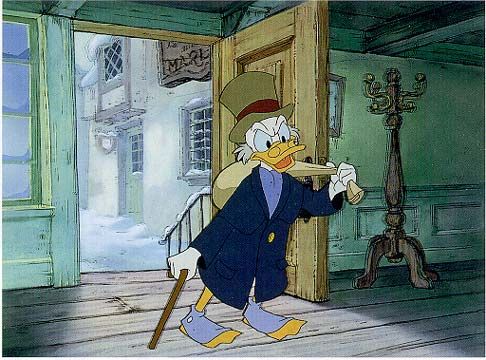 "What's this world coming to, Cratchit? You work all your life to get money . . . then people want you to give it away!" Scrooge McDuck is perfectly cast as Ebenezer Scrooge with Mickey Mouse as Bob Crachit in Disney's version of A Christmas Carol. Also features Donald Duck (voiced by Clarence Nash) as Fred the nephew, Goofy as Jacob Marley, Jiminy Cricket as The Ghost of Christmas Past and Peg-Leg Pete as The Ghost of Christmas Yet to Come. Somehow they get through the action in just over 20 minutes, perhaps a record for any version of A Christmas Carol!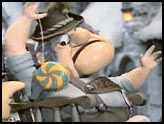 "I hate toys! And toys hate me! Either they are going or I am going and I definitely am not going!" Santa Claus is Comin' to Town features the voice talents of Paul Frees as Burgermeister Meisterburger, the befuddled mayor of Sombertown. This guy's a total asshole who declares all toys illegal. The stellar cast also boasts Fred Astaire as the narrator and Keenan Wynn as the Winter Warlock (see No. 4).
"I'm Mister White Christmas/I'm Mister Snow/I'm Mister Icicle/I'm Mister Ten Below/Friends call me Snow Miser/Whatever I touch/Turns to snow in my clutch/I'm too much!" One of the more surreal animated holiday classics, The Year Without a Santa Claus features two classic musical numbers that star Snow Miser and Heat Miser (see below). Snow Miser is voiced by Dick Shawn. Also stars Mickey Rooney as Santa Claus and Shirley Booth as Mrs. Claus. Don't know who wrote the script for this masterpiece but I would bet that drugs were somehow involved.
"You mustn't mind the tree monsters. Their bark is worse than their bite. Ha ha ha!" A truly evil and bitter creature, Winter Warlock (voiced by Keenan Wynn) receives a toy train from Kris Kringle - an act that melts his icy heart and enables him to join the group in their battle against Burgermeister Meisterburger (see No. 6).
"We'll have to outwit the fiend with our superior intelligence . . . Douse your nose and run like crazy!" More fearsome than the Winter Warlock (see No. 4), Bumble is finally "tamed" by Yukon Cornelius and Hermey the Misfit Elf. He later places the star atop the Christmas tree to complete his redemption.
"They're finding out now that no Christmas is coming. They're just waking up, I know just what they'll do. Their mouths will hang open a minute or two, then the Whos down in Whoville will all cry, 'Boo Hoo.'" Boris Karloff narrates Dr. Seuss' classic tale and also provides the voice of the Grinch. An uncredited Thurl Ravenscroft sings "You're A Mean One, Mr. Grinch," while legendary animator Chuck Jones directed this holiday classic.
"I'm Mister Green Christmas/I'm Mister Sun/I'm Mister Heat Blister/I'm Mister Hundred and One/They call me Heat Miser/Whatever I touch/Starts to melt in my clutch/I'm too much!" The ogre-like Heat Miser lives inside a volcano and battles with his half-brother, Snow Miser (see No. 5) for control of the weather. George S. Irving provided the voice for Heat Miser. An alternative rock band, Heatmiser, which included Elliott Smith, took its name from this legendary animated character, who was also turned into an action figure - believe it or not!
---
---
© 2018 Chinaski, Foley &amp Associates