Top 10 Best Teen Movies of the '80s
A nerd (Eric Stoltz) who works at a sleazy bowling alley moves into a singles apartment where he crashes and burns at every opportunity. Forced to get a roommate, he opts for Chris Penn, a head-butting wrestler who enjoys harassing his ex-girlfriend. Film has a little something for everybody, including a bogus stag party at a sleazy strip bar, sex in the back of a donut shop, a poodle in a microwave oven and a Vietnam vet (Randy Quaid) who's addicted to heroin.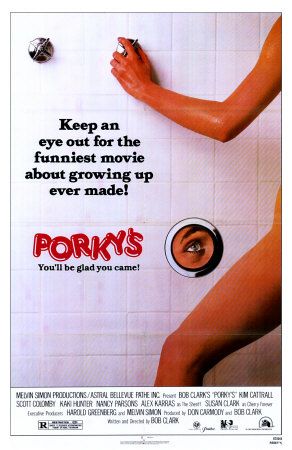 The plot, such that it is, involves young Pee Wee's futile attempts to get laid. His mom even catches him spanking the monkey to National Geographic! For some reason, the action takes place in Ft. Lauderdale in 1954. Apparently, there were quite a few whorehouses out in the Everglades back then, or so we're led to believe. Porky's ushered in the age of the raunchy teen comedy, spawning dozens of, mostly inferior, imitations. A couple of shitty sequels, including one in which the gang actually performs a Shakespearean play, followed the success of this thing.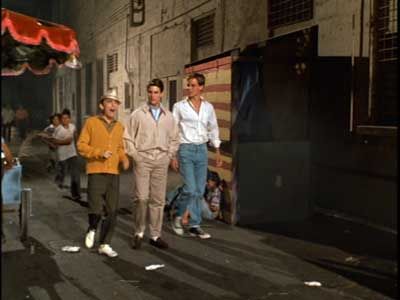 A group of horny teens (and a little brother more interested in scoring some fireworks) pile into a car and head over the border to Tijuana in a futile attempt to get laid. Tom Cruise plays "Woody." Shelley Long totally embarrasses herself. And Jackie Earle Haley (Breaking Away) steals the show as the desperate geek who tries to get his hands on some Spanish Fly. Losin' It was directed by Curtis Hanson (could this possibly be the same guy who won an Oscar for directing L.A. Confidential?).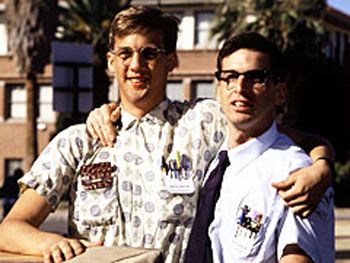 A bunch of pathetic nobodies led by Robert Carradine organizes its own fraternity, Lamba Lamba Lamba. As "Booger," Curtis Armstrong rattles off some of the best lines in the flick, such as: "What the fuck are robster craws?" In the much less successful sequel, Revenge of the Nerds II: Nerds in Paradise, the boys head down to Ft. Lauderdale for Spring Break and Booger meets his mentor, "Snotty." In my favorite scene from Revenge of the Nerds, Booger utters one of the greatest lines in teen comedy history in response to the question, "What are you looking at nerd, huh?", posed by Stan Gable, leader of the Alpa Betas: "I thought I was looking at my mother's old douchebag, but that's in Ohio." Ironically, Stan and Betty have already rode off and none of his fellow Tri-Lam nerds are within earshot, so Booger essentially wasted this awesome insult!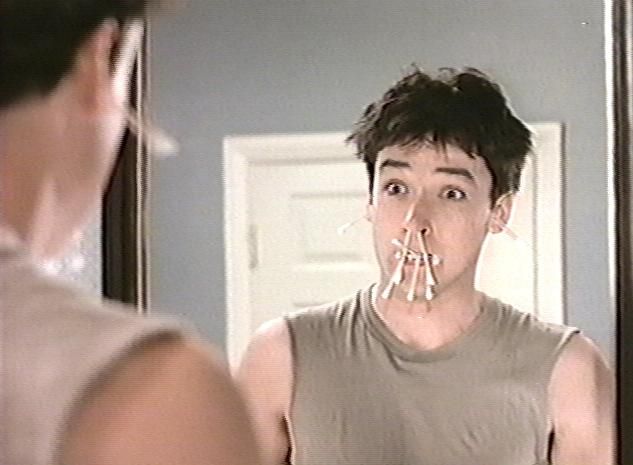 Lane (John Cusack) half-heartedly attempts to commit suicide in a variety of creative ways after his girlfriend dumps him but he finds salvation with the French exchange student (Diane Franklin). Meanwhile, the newspaper boy keeps harassing him: "I want my 2 dollars!" The action culminates with a ski race on the legendary "K-12" slope. As usual, Curtis Armstrong as Lane's befuddled buddy, "Charles De Mar," steals the show with lines like "He snorts nasal spray? You know where I can score some?" AND "Outrageous! This is pure snow! It's everywhere! I think I just froze the left half of my brain!"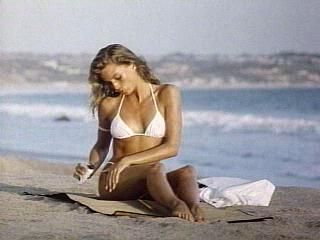 John Cusack and Daphne Zuniga star in this modern version of It Happened One Night directed by none other than Meathead himself, Rob Reiner. Cusack teaches Zuniga how to "shotgun" a beer. Tim Robbins has a brief role as a total fuckin' geek named "Gary Cooper." Nicollette Sheridan is "The Sure Thing," who Cusack ultimately rejects for Zuniga, who would go on to appear in a total piece of shit, The Fly II, with Eric Stoltz and then she disappeared for awhile before reappearing as a regular on "Melrose Place."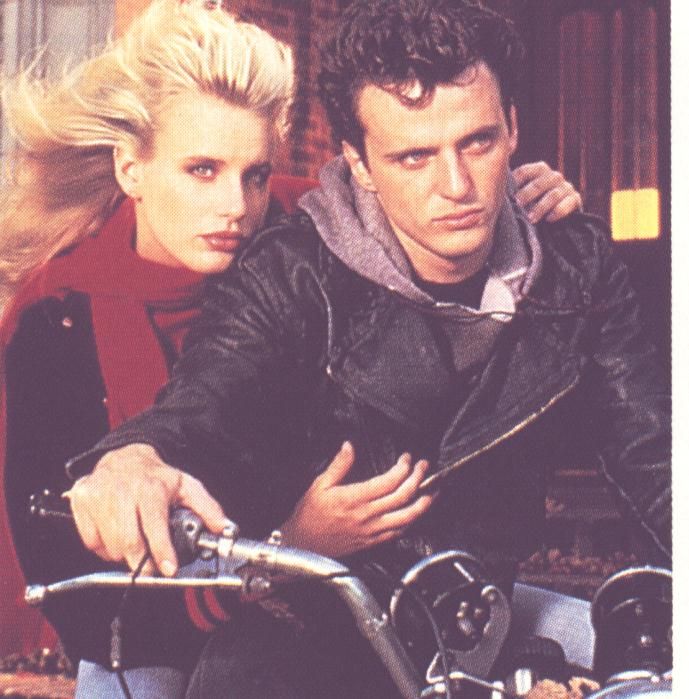 "We're the kids of America . . ." Troubled teenage outcast, Johnny, pursues beautiful and rich cheerleader, Tracey. However, Tracey is dating Randy, a wealthy scumbag football player. Tracy's entire clique hates Johnny. Shit, this is beginning to sound like Valley Girl! Johnny quits the football team and soon hooks up with Tracey in the high school swimming pool. Johnny's alcoholic father dies in an accident at the steel plant. Johnny cleans out his father's locker and finds news clippings detailing his football heroics. Johnny goes home, sets the house on fire and drives off on his motorcycle. Johnny rescues Tracey from trig class. They roar off into the Pittsburgh sunset (okay, acid rain) to the accompaniment of a classic Bob Seger tune - "Roll Me Away." Reckless was inspired by Rebel Without a Cause - okay, they stole the idea outright! In addition, all of the high school students look like they are in their 30s. However, it all works in this classic teen drama that details TEENAGE ANGST with the best of them. Aidan Quinn does a great acting job here, one that should have led him on to super-stardom. What happened? Daryl Hannah has never looked or acted better! Kenneth McMillan almost steals the show as the crusty, drunken steelworking father. Actually more of a drama than a comedy, but some of the scenes are funny as shit! For instance, you haven't lived until you've watched Quinn go totally ballistic at the high school dance to the beat of Romeo Void's "Never Say Never." Hell, the entire soundtrack is kick ass, featuring the likes of Kim Wilde and INXS! How come you can't find it anywhere? [Read the review]
A teen named Joel (Tom Cruise) gets in way over his head after he's left home alone. I once read someone refer to this film as having the same plot as The Cat in the Hat - "only with whores." Specifically, Rebecca De Mornay and her cohorts. However, it's Curtis Armstrong who steals scenes as Joel's horny buddy ("Sometimes you just have to say . . . what the fuck.").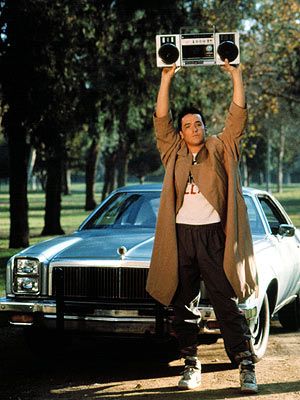 John Cusack, once again, is an underachieving kick boxer who makes a play for the school brain, Ione Skye. John Mahoney is stellar as Skye's dad - the guy gets caught embezzling money from a nursing home! Lili Taylor is awesome as the lovelorn "Corey Flood." Many of our readers think The Breakfast Club is frankly the definitive teen comedy of the '80s, so here it is!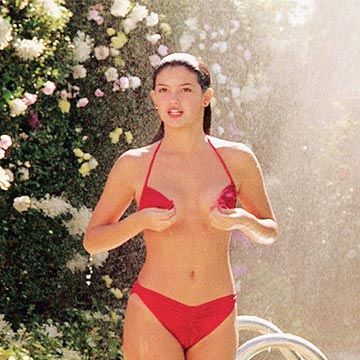 Full of horny students (and adults), malls, surfers, bong hits, abortions, crappy fast-food jobs and total fuckin' geeks, Fast Times changed all the rules and defined the teen film for the '80s. Everybody's wearing Members Only jackets and combing the mall for chicks. The plot centers around a geek who turns to a sleazy ticket scalper for advice on how to score with Jennifer Jason Leigh. "...put on Led Zep IV, man. It works every time." The battle between stoned surfer Jeff Spicoli (Sean Penn) and Mr. Hand (Ray "My Favorite Martian" Walston) is very memorable. In the most famous scene, Phoebe Cates catches Judge Reinhold burping the chipmunk. Nicholas Coppola (Cage) appears for about two seconds in the film. Also look for Eric Stoltz, Forest Whitaker and Anthony Edwards in minor roles. And what is there left to say about Ferris Bueller's Day Off? To many, it is simply the quintessential '80s teen flick!
---
---
© 2018 Chinaski, Foley &amp Associates