Top 10 Apocalypse Now Trivia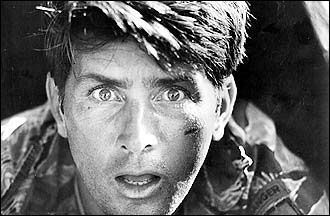 "Saigon . . . shit, I'm still only in Saigon . . . " Steve McQueen, Al Pacino, James Caan, Jack Nicholson and Robert Redford all turned down the part of Captain Willard. Director Francis Ford Coppola fired Harvey Keitel after only one week of filming and replaced him with Martin Sheen as Willard. In March 1977, 35-year-old Sheen suffered a massive heart attack. He returned to the set on April 19 and managed to finish the film.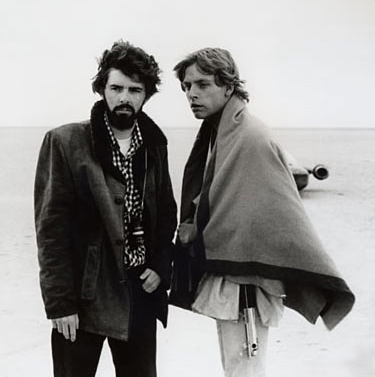 "Everyone gets everything he wants. I wanted a mission, and for my sins, they gave me one." Coppola's assistant, George Lucas, was set to direct the film before he opted to take on a project called Star Wars.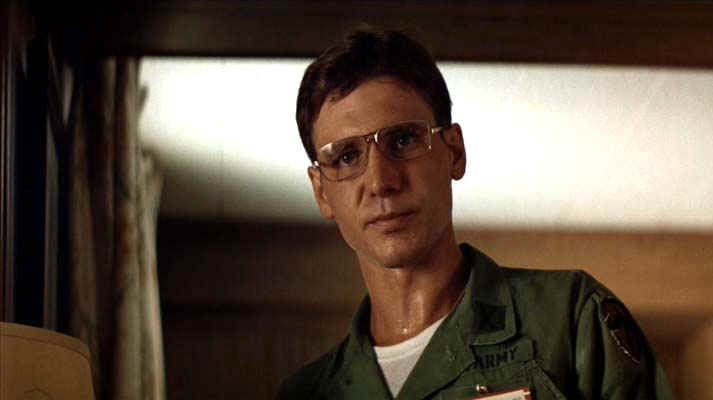 "You understand, Captain, that this mission does not exist, nor will it ever exist." Look for bit roles from Harrison Ford as Colonel G. Lucas (a tribute to George Lucas, who gave Ford his big break in American Graffiti), legendary rock promoter Bill Graham as the Playboy Bunnies' manager and R. Lee Ermey (Full Metal Jacket) as a helicopter pilot. Coppola himself appears in a cameo directing a war documentary.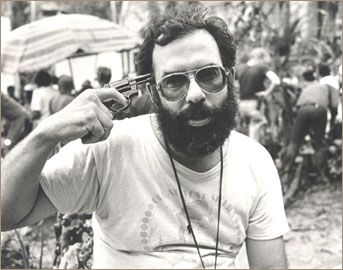 "We were in the jungle, there were too many of us, we had access to too much money, too much equipment, and, little by little, we went insane."
—Francis Ford Coppola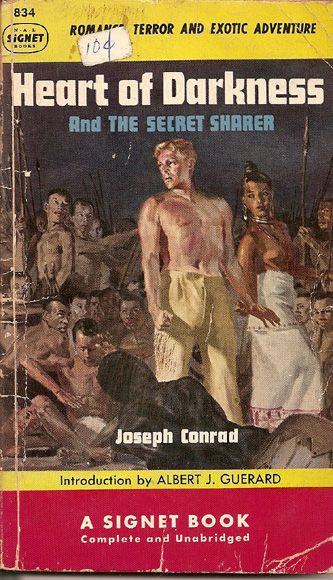 "We live, as we dream—alone." Apocalypse Now is loosely based on Joseph Conrad's 1902 novella Heart of Darkness, the action moved from the African Congo in the 1800s to Vietnam in the late 1960s.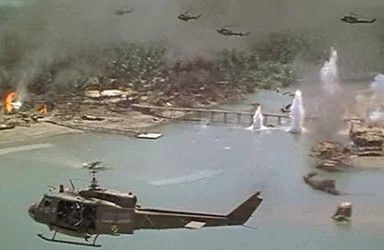 "We'll come in low out of the rising sun and about a mile out, we'll put on the music . . . Yeah, I use Wagner—scares the hell out of the slopes! My boys love it!" The U.S. military, still reeling from the disaster in Vietnam, offered no cooperation in the film's production. Coppola borrowed helicopters from the Philippine Air Force, which would routinely reclaim them in order to fight rebels in the mountains.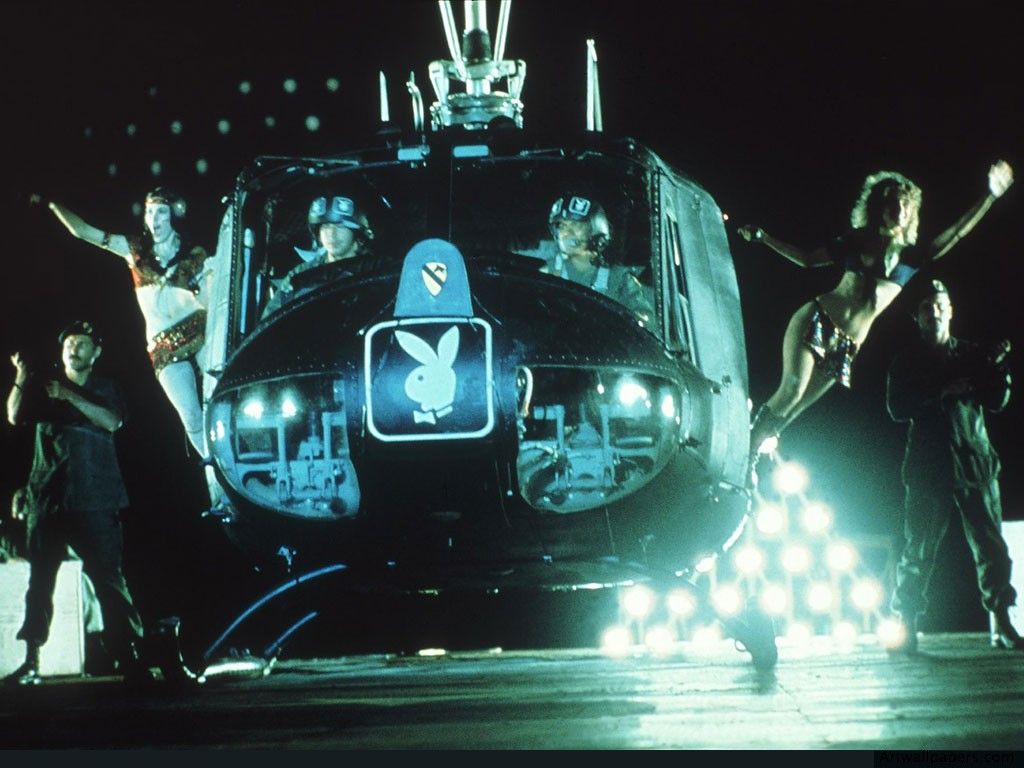 "Disneyland. Fuck, man, this is better than Disneyland." A strip club called "Apocalypse Now" opened in Ho Chi Minh City in the early 1990s.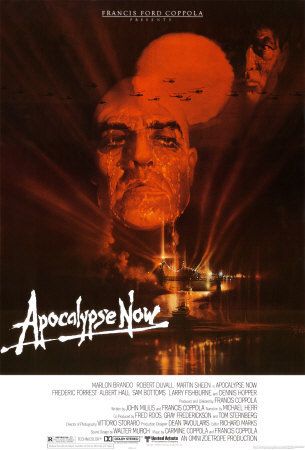 "My film is not about Vietnam. It is Vietnam." Coppola shot a record 1.5-million feet of film and about 23 hours of film ended up on the cutting-room floor. An indecisive Coppola also filmed two different endings. Budgeted at $12 million, the film ended up costing $31 million. It earned $150 million worldwide.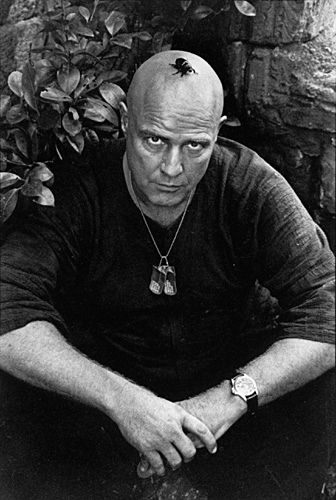 "We are the hollow men/We are the stuffed men . . ." Marlon Brando, who received $1 million in advance for his portray of Colonel Walter E. Kurtz, showed up on the set severely overweight. He admitted to Coppola that he hadn't read the script or its inspiration, Joseph Conrad's Heart of Darkness. Brando's scenes were filmed in shadows.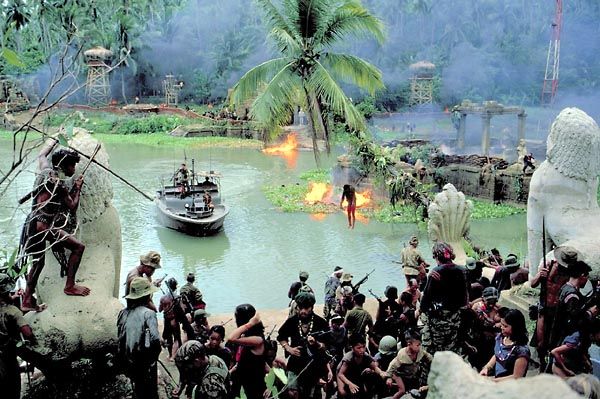 "I heard there are some real cadavers in body bags at the Kurtz Compound set. I asked the propman about it; he said, 'The script says 'a pile of burning bodies'; it doesn't say a pile of burning dummies.'"
—Eleanor Coppola, Notes
---
---
© 2018 Chinaski, Foley &amp Associates