Top 10 Savagely Insane Quotes from Fear and Loathing in Las Vegas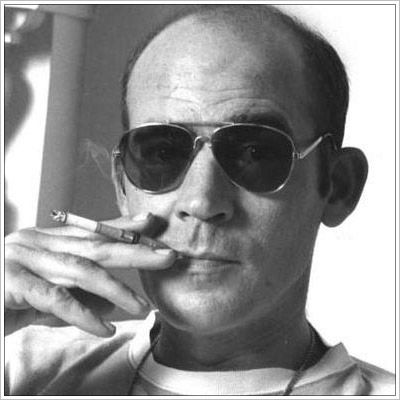 "There was every reason to believe I was heading for trouble, that I'd pushed my luck a bit far. I'd abused every rule Vegas lived by—burning the locals, abusing the tourists, terrifying the help. The only hope now, I felt, was the possibility that we'd gone to such excess, with our gig, that nobody in a position to bring the hammer down on us could possibly believe it . . . When you bring an act into this town, you want to bring it in heavy. Don't waste any time with cheap shucks and misdemeanors. Go straight for the jugular. Get right into felonies. The mentality of Las Vegas is so grossly atavistic that a really massive crime often slips by unrecognized."
"We were the Menace—not in disguise, but stone-obvious drug abusers, with a flagrantly cranked-up act that we intended to push all the way to the limit . . . not to prove any final, sociological point, and not even as a conscious mockery: It was mainly a matter of life-style, a sense of obligation and even duty. If the Pigs were gathering in Vegas for a top-level Drug Conference, we felt the drug culture should be represented. Beyond that, I'd been out of my head for so long now, that a gig like this seemed perfectly logical. Considering the circumstances, I felt totally meshed with my karma."
"Hallucinations are bad enough. But after a while you learn to cope with things like seeing your dead grandmother crawling up your leg with a knife in her teeth. Most acid fanciers can handle this sort of thing. But nobody can handle that other trip—the possibility that any freak with $1.98 can walk into Circus-Circus and suddenly appear in the sky over downtown Las Vegas twelve times the size of God, howling anything that comes into his head. No, this is not a good town for psychedelic drugs. Reality itself is too twisted."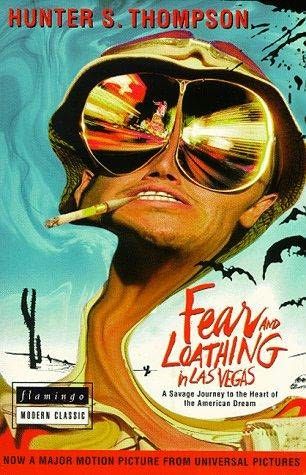 "But our trip was different. It was a classic affirmation of everything right and true and decent in the national character. It was a gross, physical salute to the fantastic possibilities of life in this country—but only for those with true grit. And we were chock full of that."
"It is a weird feeling to sit in a Las Vegas hotel at four in the morning—hunkered down with a notebook and a tape recorder in a $75-a-day suite and a fantastic room service bill, run up in forty-eight hours of total madness—knowing that just as soon as dawn comes up you are going to flee without paying a fucking penny . . . go stomping out through the lobby and call your red convertible down from the garage and stand there waiting for it with a suitcase full of marijuana and illegal weapons . . . trying to look casual, scanning the first morning edition of the Las Vegas Sun."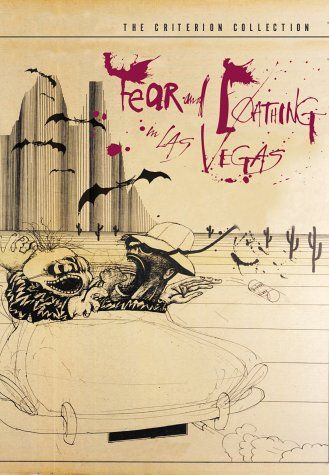 "The trunk of the car looked like a mobile police narcotics lab. We had two bags of grass, seventy-five pellets of mescaline, five sheets of high-powered blotter acid, a salt shaker half full of cocaine, and a whole galaxy of multi-colored uppers, downers, screamers, laughers . . . and also a quart of tequila, a quart of rum, a case of Budweiser, a pint of raw ether and two dozen amyls . . . Not that we needed all that for the trip, but once you get locked into a serious drug collection, the tendency is to push it as far as you can. The only thing that really worried me was the ether. There is nothing in the world more helpless and irresponsible and depraved than a man in the depths of an ether binge. And I knew we'd get into that rotten stuff pretty soon."
"The bathroom floor was about six inches deep with soap bars, vomit, and grapefruit rinds, mixed with broken glass. I had to put my boots on every time I went in there to piss. The nap of the mottled grey rug was so thick with marijuana seeds that it appeared to be turning green. The general back-alley ambience of the suite was so rotten, so incredibly foul, that I figured I could probably get away with claiming it was some kind of 'Life-slice exhibit' that we'd brought down from Haight Street, to show cops from other parts of the country how deep into filth and degeneracy the drug people will sink, if left to their own devices . . . There was evidence, in this room, of excessive consumption of almost every type of drug known to civilized man since 1544 A.D."
"We were someplace around Barstow on the edge of the desert when the drugs began to take hold. I remember saying something like 'I feel a bit lightheaded; maybe you should drive . . .' And suddenly there was a terrible roar all around us and the sky was full of what looked like huge bats, all swooping and screeching and diving around the car, which was going about a hundred miles an hour with the top down to Las Vegas. And a voice was screaming: 'Holy Jesus! What are these goddamn animals?'"
"All those pathetically eager acid freaks who thought they could buy Peace and Understanding for three bucks a hit. But their loss and failure is ours, too. What Leary took down with him was the central illusion of a whole life-style that he helped to create . . . a generation of permanent cripples, failed seekers, who never understood the essential old mystic fallacy of the Acid Culture: the desperate assumption that somebody—or at least some force—is tending the Light at the end of the tunnel. This is the same cruel and paradoxically benevolent bullshit that has kept the Catholic Church going for so many centuries. It is also the military ethic . . . a blind faith in some higher and wiser 'authority.' The Pope, The General, The Prime Minister . . . all the way up to 'God.'"
"History is hard to know, because of all the hired bullshit, but even without being sure of 'history' it seems entirely reasonable to think that every now and then the energy of a whole generation comes to a head in a long fine flash, for reasons that nobody really understands at the time—and which never explain, in retrospect, what actually happened . . . There was madness in any direction, at any hour. If not across the Bay, then up the Golden Gate or down 101 to Los Altos or La Honda . . . You could strike sparks anywhere. There was a fantastic universal sense that whatever we were doing was right, that we were winning . . . And that, I think, was the handle—that sense of inevitable victory over the forces of Old and Evil. Not in any mean or military sense; we didn't need that. Our energy would simply prevail. There was no point in fighting—on our side or theirs. We had all the momentum; we were riding the crest of a high and beautiful wave . . . So now, less than five years later, you can go up on a steep hill in Las Vegas and look West, and with the right kind of eyes you can almost see the high-water mark—that place where the wave finally broke and rolled back."
---
---
© 2018 Chinaski, Foley &amp Associates