Top 10 Worst Stripper Movies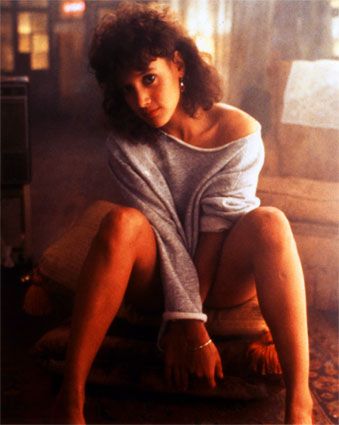 A welder by day and exotic dancer by night! Yes, this was ludicrous drivel, but Jennifer Beals looked pretty damn hot! Believe it or not, both David Cronenberg and Brian de Palma turned down offers to direct this film before it was handed to Adrian Lyne, who transformed it into a mindless, extended music video . . . "Take your passion . . . And make it happen!"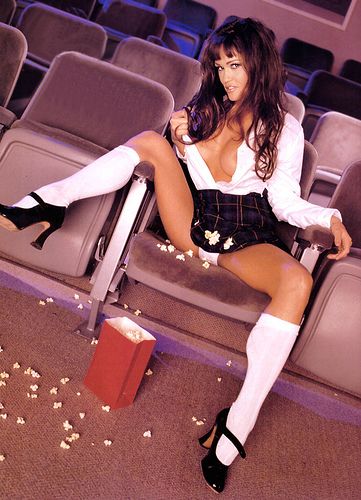 Dancers at a strip club called "Club Fugazi" are being murdered and one stripper dreams of the murders before they occur . . . Is it possible that she is the killer? The above photo is of Lisa Boyle, who stars as "Cassandra Leigh". This shot is not from the movie, but it provides you with a good idea of her natural talents! Sample dialogue: "I take off my clothes for hundreds of men every night. Sometimes I even like it!"
Another unerotic thriller, this one revolves around a psychologist by day and stripper by night (how original!). Bottom line: Just about any Shannon Tweed film could occupy this spot!
"The most anticipated sequel of the decade!" Debbie gets bored of dancing at a strip club and decides to join a basketball cheerleading squad. Stars Lexus Locklear (pictured above), whose acting credits include Cum Dumpsters 3.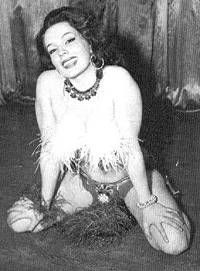 Arguably, Paul Newman's worst performance (besides his film debut in The Silver Chalice) as Governor of Louisiana, Earl Long, who falls in love with stripper, Blaze Starr (Lolita Davidovich). Above is a photo of the real Blaze Star . . . now you can see why Davidovich was horribly miscast!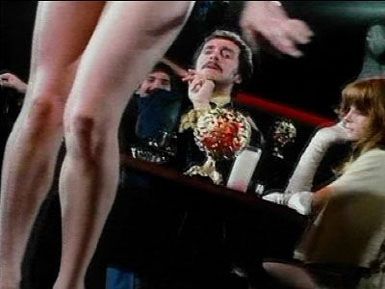 More gory killings at a strip club, this legendary sleazefest was directed by the "Godfather of Gore" himself, Herschell Gordon Lewis (Blood Feast). Priceless dialogue: "Ah, face mutilated with a meat tenderizer, throat slit and this one had her ass beat in . . ."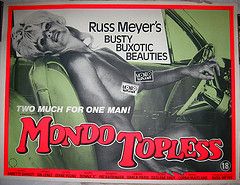 "Two Much For One Man . . . Russ Meyer's Busty Buxotic Beauties . . . Titilating . . . Torrid . . . Untopable . . . Too Much For One Man!" Russ Meyer's first color film, this pseudo documentary was banned in Finland.
More brutal murders, this time at a strip club called "Rock Bottom." This is the actual tagline for the film (I'm not kidding!): "A Maniac is Killing Strippers. Detective Sheehan Has One Weapon to Stop Him. Her Body."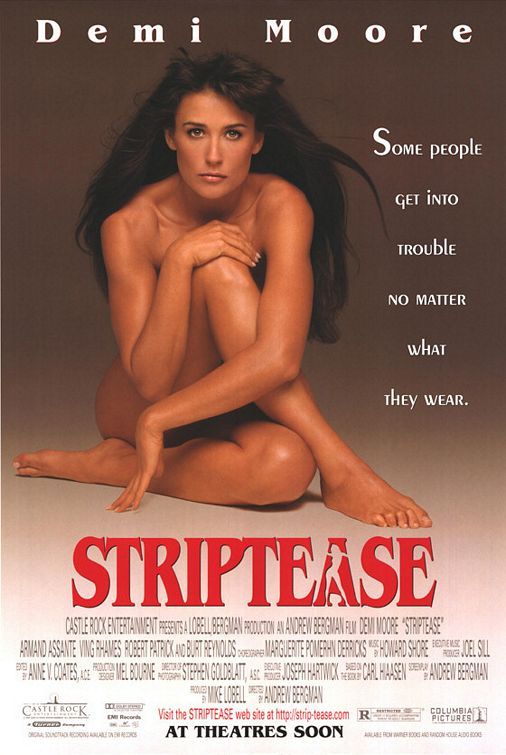 What happens when you take a biting satire from Carl Hiaasen, water it down and choose Demi Moore and Burt Reynolds to play the leads? You're absolutely correct, the result is an unmitigated disaster. Moore tries to turn her role as a Ft. Lauderdale stripper into something out of A Streetcar Named Desire, while her supporting cast hams it up, unbeknownst to her dramatic intentions. At least Burt Reynolds (clad in one of his ridiculous toupees) has given up his goal of being taken seriously as an actor. Ving Rhames does manage to steal some scenes as the club's bad-ass bouncer.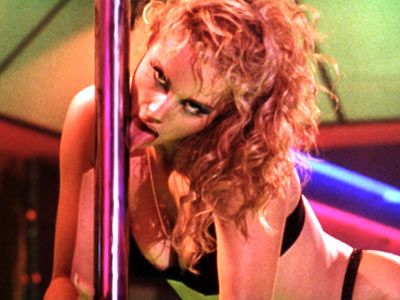 A thoroughly laughable and unerotic look at the sleazy side of Las Vegas strippers, this turkey stars the untalented Elizabeth Berkley ("Saved by the Bell"), a spunky but brain-dead dancer named "Nomi" who works her way up the showbiz ladder from lap dancer to showgirl. Kyle MacLachlan, looking and acting just as he did when he portrayed Ray Manzarek in The Doors, plays Nomi's boyfriend, "Zack" (effectively terminating his once-promising career). Sample dialogue: "You got low self-esteem baby, you're a fantastic fuck."
Top 10 List Courtesy of Art Spackle
---
---
© 2013 Shelf-Life Productions LLC